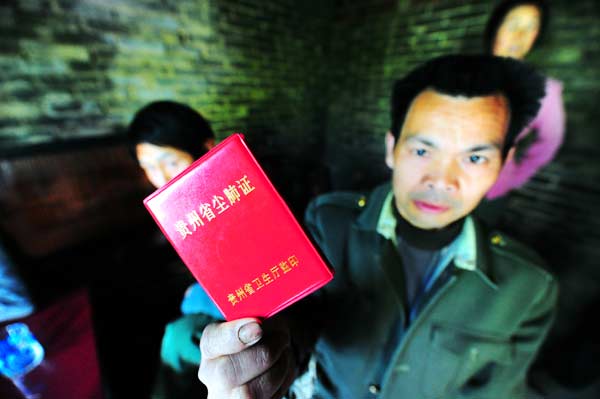 Du Chunde from Guizhou province receives a government-issued booklet identifying him as a pneumoconiosis patient which entitles him to medical and living subsidies. [Photo provided to China Daily]
Breathing comes so naturally that most of us take it for granted. But for those suffering from pneumoconiosis, or black lung disease, each breath is hard and painful.
The disease, a common occupational hazard among miners, happens when dust builds up and remains in the alveoli of the lung, causing constant inflammation that turns the normally elastic lung wall into fibrous scar tissues, and loses its function.
As the disease advances, patients suffer from coughing, wheezing, fatigue, and eventually, difficulties at every breath.
"In many developed countries, pneumoconiosis hasn't been a threat to workers in mines and factories since the 1970s. But China still faces the threat," says Wang Keqin, founder of Love Save Pneumoconiosis, a non-government organization to provide medical help for patients.
"Pneumoconiosis is one of the most common occupational diseases in China, and because of lack of treatment, patients have a high death rate of up to 22 percent," Wang says.
About 700,000 cases of pneumoconiosis had been reported by the end of 2011, and in 2012, 88 percent of new occupational cases were related to pneumoconiosis, according to the National Health and Family Planning Commission.
But the actual number of pneumoconiosis patients could be about 6 million, because migrant workers in small and private mines and factories are not under the health authority's occupational disease supervision, Wang reveals at a seminar in Beijing on Feb 22 attended by NGOs, labor experts and layers, government officials and occupational disease specialists.