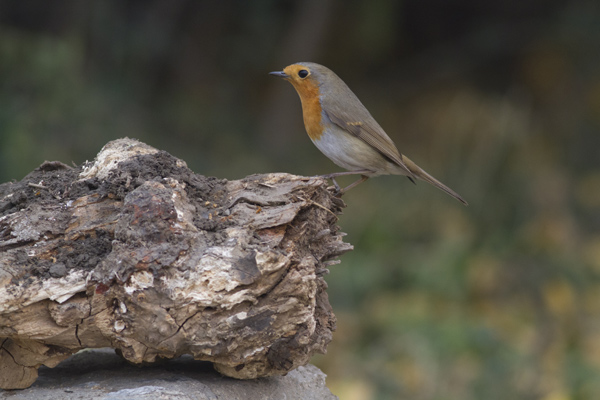 The European robin appears in the shrubs of Temple of Heaven in Beijing earlier this month, which attracted bird-watchers in the city. [Wang Jingsheng/for China Daily]
The rare arrival of a European robin at the Temple of Heaven in Beijing is causing a flutter among bird-watchers, with concerns voiced for the bird's safety.
Many poachers are reported to have been following crowds of photographers and bird-watchers in the park.
Xing Qixin, from the Temple of Heaven operations committee, said, "We have arranged for more patrols to prevent the bird from being trapped."
To photograph the visitor, Wang Jingsheng and about 30 of his friends sit for more than four hours with their telephoto lenses at the ready.
"It's our first chance for several years to take photos of this beautiful bird," said Wang, adding that at least 100 photographers were out in force last Friday morning.
Wang has taken pictures of the robin for three days, adding that they have also managed to deter some poachers. "It's a pity to lose these birds, so we always tell our families to protect them. I hope that if more people join us, this will deter the poachers," he said.
It's unclear how the lone robin appeared among shrubs at the Temple of Heaven about 10 days ago.
The robin is seldom seen in East Asia, being found mainly in Europe, Central Asia and North Africa, said Terry Townshend, founder of the website Birding Beijing.
It has a red breast, face tinged with gray, brown upper parts and a whitish belly.
Townshend thinks the young bird may have taken a"wrong turn" during its autumn migration and ended up in Beijing instead of southern Europe or elsewhere.
Jennifer Leung, a member of the Hong Kong Bird Watching Society who lives in Beijing, agreed with Townshend's reasoning.
Both are happy to see so many people trying to catch a glimpse of the bird, but have strong concerns for its safety, saying many poachers have followed the bird-watchers and photographers in the park.
Townshend suggested that the authorities ask their staff members to watch out for any suspicious activity and to report poachers to police.
But the bird-watchers and the operations committee cannot guarantee the bird's safety with round-the-clock protection.
Townshend said Beijing is an excellent city for birds, being home to more than 450 species - more than in London, New York, Paris and Washington.
"However, most Beijing residents have no idea about these birds and pay little attention to protecting them," he said.
Townshend, who is from Britain, added that in the UK, the robin, known as "the gardener's friend", is strongly linked with Christmas, appearing on Christmas cards since the mid-19th century and also featuring on many stamps marking the festive season.
zhengjinran@chinadaily.com.cn