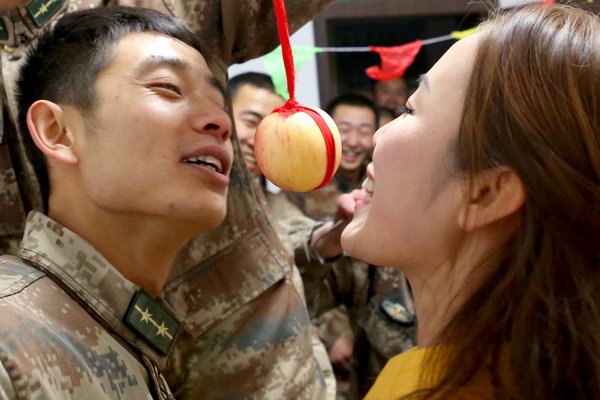 Newlyweds at a frontier defense regiment in Hami prefecture of Xinjiang Uygur autonomous region are goaded into biting the same apple so they kiss - one of the tasks they have to do at their wedding on Jan 28, 2014. [Photo/CFP]
About 70.7 percent of young people said they would boycott vulgar horseplay at weddings as it violates ethical standards, a survey by China Youth Daily showed on Tuesday.
A research center affiliated with China Youth Daily and mobile news network 3g.qq.com jointly conducted the survey last week, which involved 21,155 participants.
Some regions in China have a tradition of rough horseplay at weddings. Newlyweds are put through a series of tasks, and outrageous pranks that allude to sex in the bridal chamber are played on them.
About 79.2 percent of those surveyed have participated in or witnessed rough horseplay at weddings, and 60.9 percent of respondents said they detest it. About 10.9 percent said, "The elder generation's involvement in sexual pranks is immoral."
The top two reasons for boycotting rough horseplay are: people may go too far and give offence (52.9%), and the sexual innuendos are obscene and insulting to the newlyweds (37.9%).
About 74.3 percent said the practice does nothing to contribute to a harmonious marriage, which is one of the supposed traditional functions of wedding horseplay. In fact, 17 percent said it has negative effects.
Those born after 1990 made up 44.4 percent of respondents, while people born between 1980-1989 account for 34.8 percent, those born between 1970-1979 account for 11.2 percent and people born before 1969 made up 9.5 percent.