Chinese wedding, global love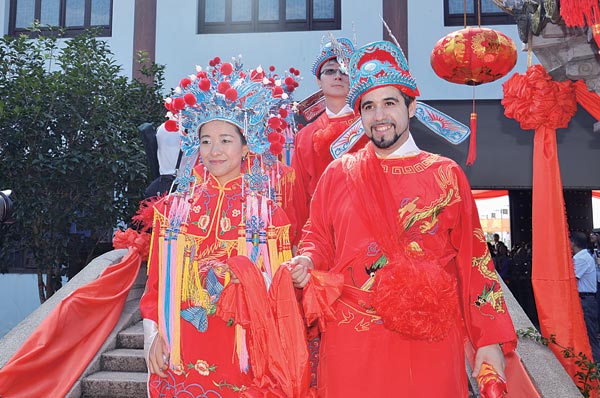 A royal affair: Li Jiayin and Spain's Patxi Alberdi join the mass wedding ceremony. Photos provided to Shanghai Star
A mass wedding ceremony in Jinshan district's Fengjing water town saw 20 couples tie the knot in a traditional Chinese ceremony, however, not everyone getting hitched was familiar with the rituals. Zhou Wenting reports.
Daria Zelenskaia from Russia never thought she would mark her wedding in such a traditional Chinese way.
She and her husband glided in a wooden boat on a lake in Jinshan district's Fengjing water town, surrounded by hanging red lanterns and cheers from their relatives and friends on the shore.
"hey walked onto a stage led by a matchmaker after a lion dance. The stage featured a banner reading bainian haohe, or a "harmonious union forever".
Zelenskaia and her groom Li Yongtao from East China's Shandong province, wore traditional Chinese attire from head to toe. Li lifted his bride's red veil to the cheers of their guests and fireworks exploding in the sky overhead.
"It feels so fresh and fun to me. The bridal crownpiece with metal ornaments is very heavy and I'm still trying to get used to it. The dress is like a costume. It's very different from a Western bridal veil, which is light and close-fitting," says Zelenskaia, 23.
"But I love the dress and it is beautiful. Every woman should dress in red on their wedding day," she says.