Tigers are being widely abused in many of the country's zoos, according to a report issued by an animal rights group.
The claim comes after pictures of an emaciated tiger in Tianjin Zoo triggered public concern in August.
On Sunday, China Zoo Watch issued a report that highlighted abuse including the tigers' poor and crowded living conditions. About 35 volunteers from the group visited zoos nationwide and highlighted the lack of animal welfare and protection.
Some of the tigers were raised in cages so small that the animals could not turn around, volunteer Long Yuanzhi said. Some of the big cats were kept in concrete enclosures with no natural light, making them extremely anxious.
A wildlife park in Beijing's Daxing district was found to be using electric fences to contain tigers in October, and the animals were shaking in their enclosure, the group reported.
Hu Chunmei, an animal rights activist with Nature University, an environmental protection project, agreed that the living conditions of tigers in Chinese zoos are deplorable.
Other than the poor living conditions, the tigers are also widely used in animal shows although the Ministry of Housing and Urban-Rural Development issued a circular in 2010 banning animal performances nationwide, she said.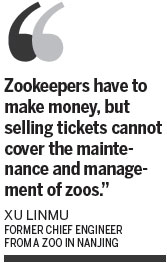 China Zoo Watch reported that displays involving tigers are still being staged in many zoos, where the beasts are made to jump through flaming hoops and do other acrobatics.
These shows not only abuse the animals physically and psychologically, but also mislead children and youngsters who may think the endangered animals can be used for performances against their nature, Hu said.
Jumping through flaming hoops is the most traumatic trick for tigers because they are by nature terrified of fire, Long said.
But Xu Linmu, former chief engineer from a zoo in Nanjing, Jiangsu province, said raising a tiger costs more than 50,000 yuan ($8,150) a year, which is too much for zoos across the country.
"Zookeepers have to make money, but selling tickets cannot cover the maintenance and management of zoos," Xu said.
In Chimelong Safari Park in Guangzhou, capital city of South China's Guangdong province, a ticket for an animal circus costs about 280 yuan per person, with white tiger shows one of the most popular acts.
Legislation on animal welfare is essential to stamp out increasing animal abuse, said Zhou Ke, an environmental protection law professor at Renmin University of China.
The country has laws to protect animals in the wild but lags behind when it comes to protecting animals in captivity, activists and experts said.