Onlookers cause 10-car pileup,woman gambles away $23m of friend's money, Russia looks at China to find tiger, arsonist saves neighbors from fire.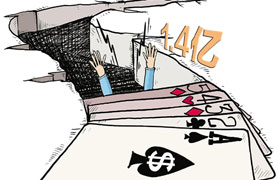 Woman gambles away $23m
A woman appealed on Wednesday against the life imprisonment handed down by a judge in Jinhua, East China's Zhejiang province, on Sept 30 for allegedly defrauding 140 million yuan ($22.83 million) from her friend, reported the Qianjiang Evening News on Thursday.
Lu Xiaoqin, born in a wealthy merchant family, reportedly gambled away 140 million yuan in Macao. She had borrowed the money from a friend in the name of doing business from February 2012 to May 2013.
Her travel records show that she went to Macao 27 times from March 2012 to June 2013, averaging twice per month.
Related:
Anti-graft drive puts the squeeze on Macao junkets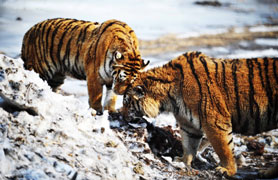 Russia to seek China's help in search for tiger
Russia is reportedly mulling asking China to help bring back a Siberian tiger that crossed into China during this weekend possibly in search of food, the Xinhua News Agency quoted Russian media as saying on Wednesday.
Kuzya was one of the three tigers released by Russian President Vladimir Putin in May when he visited an animal-care center located in Russia's Far Eastern Amur region.
Related:
Russia celebrates Tiger Day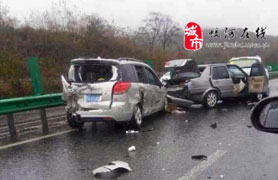 Onlookers cause 10-car pileup
A 10–plus-car pileup on a highway in Northeast China's Jilin province on Oct 2 has been reported to be caused by onlookers taking photos of an earlier minor car accident, reported the official microblog of China Central Television News on Wednesday.
The pile-up occurred after drivers slowed down to take pictures of an initial accident. While some drivers were taking photos a truck failed to break in time and crashed into the vehicles.
The police vehicle attending the original accident was also involved in the subsequent pile-up.
Related:
44 killed after Tibet tour bus falls into valley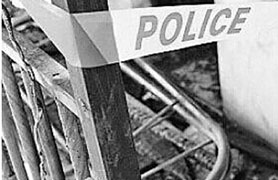 Helpful neighbor may have started fire
An investigation into a fire that occurred at a residential building in Wenzhou, East China's Zhejiang province may have shown that the arsonists may have been a resident couple of the building, the Qianjiang Evening News reported on Thursday.
One of the suspected arsonists, surnamed Liang, knocked on every door in the five-story building to wake up neighbors before rushing downstairs with his girlfriend on his back to escape the fire in the early hours of Oct 6.
Liang reportedly told the police that the fire was started by his girlfriend when she tried to burn herself with gasoline after a quarrel.
Related:
Woman executed for arson in E China

Salesman enlisted to reduce new-car smell
A pregnant woman who bought a new car asked a salesman to drive it for two months because she thought the new-car smell could harm her fetus, Chongqing Evening News reported on Wednesday. The salesman received the order in June and accepted the woman's conditions. A lawyer said that both of them would be held responsible if a traffic accident occurred during the two months.
Related:
Retailers brace for Golden Week holidays' biz losses

Deadly fate repeats, exactly one year later
A woman surnamed Yang was hit by a car as she crossed a road in Wuhu on Oct 2. She was taken to a hospital and died later, Marketing Star newspaper reported. Yang's husband, surnamed Zhang, was hit by a truck at the same place and died at the scene on Oct 2, 2013 - exactly one year before.
Related:
Exhibition showcases life of multitalented patriot