Chinese police have captured 288 economic fugitives hiding overseas - including many corrupt officials - since Fox Hunt 2014 was initiated in July, a Ministry of Public Security official said on Monday.
Of those caught, 126 have returned to China and confessed to their crimes, and 81 of them were involved infinancial crimes each valued over 10 million yuan ($1.64 million).
Twenty-one of the suspects arrested had spent more than a decade on the run, the ministry said.
In recent years, a large number of corrupt Chinese officials have fled overseas to escape legal punishment, according to the ministry.
A report by People's Bank of China shows that the illicit funds transferred by such officials exceeds 800 billion yuan, more than the annual revenue of the country's biggest telecommunication corporation.
"We have increased judicial cooperation, including intelligence sharing and case investigation, with countries such as the United States, Canada and Australia to nab the fugitives and recover their ill-gotten assets," said Liu Dong, deputy director of the ministry's Economic Crimes Investigation Department.
The ministry launched Fox Hunt 2014 to capture suspects who had escaped abroad.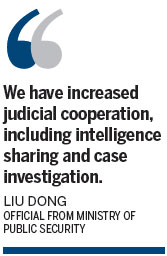 As part of the plan, the ministry urged more fugitives to return and plead guilty to receive more lenient punishment, and it called on the public to offer more clues.
According to Beijing Evening News, the ministry has"a priority list of alleged economic fugitives and will provide information to the judicial authorities in other countries to request judicial assistance and hunt for the criminals."
At the recently concluded G20 Summit in Australia, leaders from China and Australia agreed on an anti-corruption plan, and at the APEC meeting in Beijing the leaders agreed on increasing cooperation on the extradition of corrupt officials and recovery of their illicitly acquired assets.
Liu said they will seize the opportunity to "build up resources with the judicial organs in other countries and expand cooperative channels with them to bring more fugitives back to face trial."
Dai Peng, director of the criminal investigation college at People's Public Security University of China, said the APEC and G20 anti-graft agreements will "build a communication platform and set up a cooperation mechanism between China and other countries in fighting corruption."
"In addition, China will enhance judicial cooperation with countries such as the US, Canada and Australia with the view to extradition treaties, judicial assistance and attacking money laundering crimes," he added.