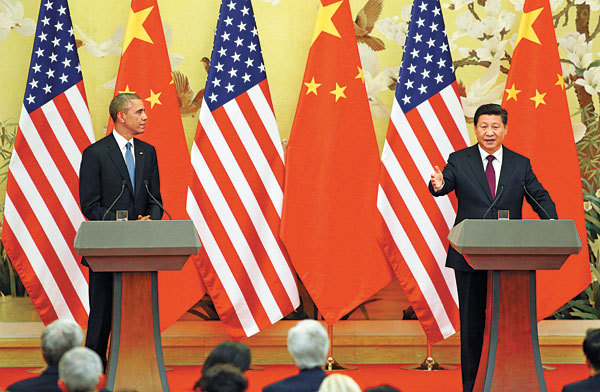 President Xi Jinping and US President Barack Obama attend a joint news conference after their meeting in Beijing on Wednesday. WU ZHIYI / CHINA DA ILY
Historic step expected to get more countries to agree on deal in 2015
China and the United States made an unprecedented joint pledge on Wednesday to cut greenhouse gas emissions, a historic step that is expected to drive more countries on board to negotiate a new agreement in Paris next year.
China announced it intends to achieve peaking of carbon dioxide emissions around 2030 and to make its best effort to peak early, according to a joint announcement made by President Xi Jinping and US President Barack Obama in Beijing on Wednesday.
It's the first time that China has set a time frame to cap its emissions. The nation also committed to increasing the share of non-fossil fuel energy to about 20 percent by 2030.
At the same time, Obama announced a new target to cut greenhouse gas emissions between 26 to 28 percent below 2005 levels by 2025, a step forward from its previous pledge to cut emissions by 17 percent by 2020 from 2005 levels.
The two countries recognized that these actions are part of the long-term effort to transition to low-carbon economies, mindful of the global temperature goal of 2C, according to the joint announcement.
"The two countries are committed to reaching an ambitious 2015 agreement that reflects the principle of common but differentiated
responsibilities and respective capabilities, in light of different national circumstances," it said.
Obama arrived in Beijing on Monday to attend the Asia-Pacific Economic Cooperation Economic Leaders'Meeting and pay a state visit to China at Xi's invitation.
UN Secretary General Ban Ki-moon call the joint statement issued by China and the US "an important contribution" to a possible global climate change agreement in Paris next year.
"China and the United States have demonstrated the leadership that the world expects of them,"Ban said in a statement.
Experts said it's a historic moment to have the leaders of the world's two largest economies to stand shoulder-to-shoulder and make significant commitments to curb emissions.
Zou Ji, deputy director of the National Center for Climate Change Strategy and International Cooperation, a think tank, said the joint announcement was a "significant and constructive" outcome that resulted from nearly six months' dialogue between the two countries.
"What's more important than the specific targets is that China and US, the world's largest developed country and developing country, have move toward a more clear, firm and pragmatic direction in addressing climate change," said Zou.
Andrew Steer, president of the World Resources Institute, said the US and China "should be commended" for putting their initial pledges on the table so early, adding this should inject a jolt of momentum in the lead up to a global climate agreement in Paris.
Experts also expect the joint effort will drive other countries on board to negotiate a global agreement next year in Paris.
Fred Krupp, president of the Environmental Defense Fund, a US nonprofit environmental advocacy group, said this level of cooperation between the two largest emitting nations is unprecedented and essential.
"But more leadership will be needed. The focus between now and the Paris meeting should be to ensure that commitments from the US, China and all countries are equal to the urgency and magnitude of the problem," Krupp said.
Meanwhile, China and the US are also two of the world's largest investors in clean energy. The two nations have carried out cooperation on launching action initiatives on vehicles, smart grids and greenhouse gas data management.
Fu Jing in Brussels contributed to this story.
lanlan@chinadaily.com.cn