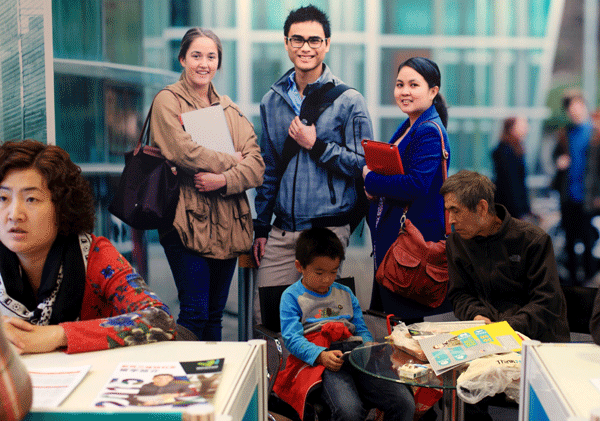 A child and his grandfather take a break during the 2014 China International Education Exhibition, held in Beijing during October. An increasing number of parents in China are choosing to send young children to study in the US. Statistics show that 23,795 Chinese students studied at US high schools in 2013.WANG JING / FOR CHINA DAILY
An increasing number of Chinese children are being sent overseas to study at a young age, as their parents look to expand their horizons and opportunities, as Zhao Xinying reports.
Chen Yang, from Qingdao, Shandong province, had intended to send his daughter to the United States for undergraduate study when she finished high school. However, after the girl, who Chen declined to name, entered a high school in the coastal city in September, he quickly changed his mind.
"Now I want to send her overseas as soon as possible," said Chen, who teaches at a local college. "My daughter told me she doesn't like her life at high school because it consists solely of preparation for the national college entrance exams, and ignores the students' individual strengths, interests, and all-around development."
In accordance with the latest plan devised by Chen and his wife, their daughter is now preparing to apply to a high school in the US, and will probably become a ninth-grader there next autumn. If the plan comes to fruition, she will join the thousands of young Chinese who head to the US for pre-college study every year.
According to the recent Annual Report on the Development of Chinese Students Studying Abroad, published by the Chinese Academy of Social Sciences, 23,795 Chinese students studied at US high schools in 2013, a staggering 365-fold increase from seven years ago.
Li Peng, deputy general manager of Kentrexs Education Group, an agency that arranges for young Chinese to study in the US, said most of the company's clients in North China are aged 12 to 15.
"However, clients from some prosperous cities in the east and south of China, such as Shanghai, can be as young as 10," Li said.
Demand for quality
Li said Chinese parents send their young children to study in the US for many reasons, and, of course, the improved financial status of many Chinese is an obvious one: "Another reason, which is of greater significance, is that the current state of education in China doesn't meet the rising demand among parents and students for high-quality, personalized education."
Chen said his daughter has a deep interest in chemistry, but all she learns at school is how to score high marks in exams, rather than how to fully develop her talent.
"My daughter told me she feels bored and discouraged at school," he said. "We feel sorry for her and want to give her a better education, so we've decided to send her overseas earlier than planned."
The US education system has many advantages that Chinese youngsters and their parents find attractive.
Zhang Weihong, a specialist in pre-college study in the US at Chivast Education International, an overseas study consultancy in Beijing, said US high schools stress elite education and pay attention to their students' all-around development, which is exactly what Chinese parents want for their children, but is rarely found in China.
"US classes have fewer students, which means each student gets more attention, support and guidance from the teachers. US secondary schools also attach equal importance to academic ability and practical skills, including fostering an innovative spirit, analytical skills, and leadership qualities, which helps to produce well-rounded, cultivated teenagers," she said.
Zhang Wenxi, a ninth-grader in Beijing, made the decision to apply for entry to a high school in the US after attending an on-campus summer camp there.
"I attended several classes and lectures during the summer camp, and was fascinated by the sense of activity in the classroom, and the good interaction between teachers and students there," the 15-year-old said. "In China, teachers are obliged to teach, and students are forced to listen and obey. That sort of teacher-student relationship isn't attractive to me."
Access to top schools
Chen and his daughter are now viewing and selecting schools in the US via the Internet. They have mainly targeted the country's northeastern states, especially Massachusetts, because the girl hopes to study at the Massachusetts Institute of Technology, one of the world's best universities, when she graduates from high school.
"She had planned to apply for MIT after she graduated from high school at home, but we heard that it's easier for Chinese students to gain entry to a top university in the US if he or she graduates from a high school in that country," Chen said.
Chivast's Zhang Weihong said it's extremely difficult for high school graduates in China to be admitted to top universities in the US because of the limited number of places for international students and the rising number of applicants from overseas.
"However, if you graduate from a high school in the US, the chances of being admitted to a prestigious university will be far higher," she said, adding that many parents who would like their children to study at top-level US universities opt to send them overseas at a very early age.
Smog and haze
Lu Wei works in Beijing as a consultant for Vision Overseas, an overseas study consultancy under the New Oriental Education and Technology Group, and during her 10 years with the company, she has helped to arrange places at high schools in US for many Chinese students.
Lu said she and her colleagues have noticed an interesting phenomenon: Whenever the Chinese capital is blanketed in smog and haze, the number of parents that contact them about US high school programs rises dramatically.
That may not be purely coincidental, according to Lu: "The heavy environmental pollution at home in recent years has become a concern for many people. Against such a backdrop, we guess that pollution may be one of the reasons parents are sending their children overseas at a young age, although we haven't yet worked out an exact correlation between the two."