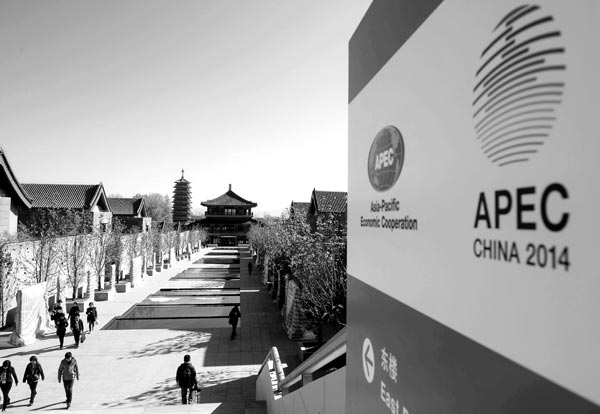 The media center in Yanqi Lake for the APEC meeting is full of Chinese style. More than 4,000 reporters have finished registrations. 
Beijing will welcome a record number of reporters for the upcoming Asia-Pacific Economic Cooperation meetings starting this week.
The number of reporters registered for the meetings reached 4,060 on Monday, the largest number in the capital's history for a major conference. More than half of the reporters are from overseas, according to the news center for the conference.
Jin Peng, deputy director of the news center for the APEC meetings, said the organizing committee is focused on providing the best reception services to reporters from home and abroad.
Two main news centers have been set up for the APEC meetings, the first time in the conference's history. One news center is located near the China National Convention Center and the other near Yanqi Lake of Beijing's Huairou district, where the APEC Economic Leaders' Meeting is expected to be held.
"The news centers are in close proximity to the main conference hall, and it will be easy for reporters to commute between the two areas," Jin said.
The National Convention Center news center will be open from Tuesday to Nov 11, and the one at Yanqi Lake will be open on Nov 10 and 11. Both news centers will be open round-the-clock, starting from 8 am on Nov 10.
The Yanqi Lake news center is designed in Chinese architectural style. Both centers will feature Chinese ancient art exhibitions during the conference period.
"As the host, we believe the Chinese elements are the best things we can show to foreign reporters," he said.
To better help reporters from overseas, all the workers at the news centers are fluent in both Chinese and English, and all the direction boards are also bilingual.
Volunteers fluent in a number of languages, including Japanese, Russian, German and Spanish, are also on hand.
The news centers are equipped with air filtration, according to a worker at the Yanqi Lake news center who declined to be identified.
When the PM2.5 index is high, the filter system will kick in and purify the air before it reaches the interior.
The two news centers both have 15 areas designated for service to the media, including public and reserved work areas for reporters and news outlets, news conference rooms, broadcasting studios and dining areas. Prayer rooms and halal food are also available at both centers.
The 22nd Asia-Pacific Economic Cooperation Economic Leaders' Meeting, to be held from Nov 10 and 11, is the first major international event Beijing has hosted since the 2008 Beijing Olympic Games.
Prior to the summit, a series of other APEC meetings will be held from Wednesday to Nov 11 in Beijing.
xuwei@chinadaily.com.cn