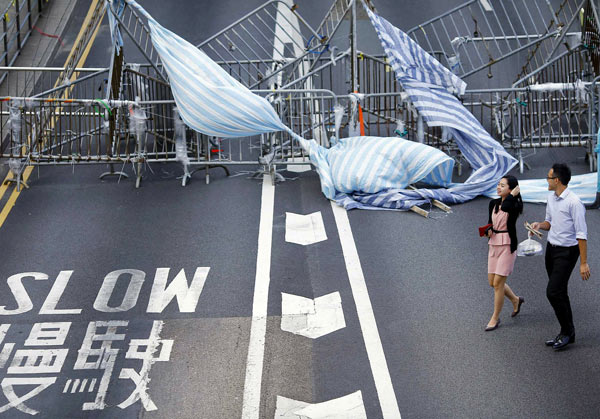 Business people walk in front of a barricade on a closed road in a part of Hong Kong's financial central district occupied by protesters on Monday.[Photo/Agencies]
The High Court of Hong Kong extended temporary injunctions on Monday against illegal protests at two hot spots, but as protesters refuse to comply, the government and legal professionals said they fear the city's celebrated rule-of-law tradition is being seriously threatened.
The temporary injunctions, issued Oct 20, targeted illegal protests at Mongkok, Kowloon and near an office building opposite to the Legislative Council complex in the Admiralty district. The applicants were taxi drivers and building owners.
The applicants have made attempts to clear the barricades, but met fierce resistance from protesters. Vehicular access to the CITIC Tower at Admiralty as of Monday evening was still blocked by a thin layer of metal fences.
When the Court of First Instance, one of two courts in the High Court, began to ponder a permanent injunction on Friday, the city's government lawyer advised the court to authorize police officers to enforce the orders, and if necessary, arrest protesters for contempt of court.
Justice Jeremy Poon Shiuchor postponed ruling on a permanent order after hearing arguments presented by legal representatives of the applicants, the protesters and the government. The temporary injunctions were therefore extended. Protesters remain defiant. Leung Heinam told China Daily that he will not quit the unlawful protest in Admiralty "for the future of Hong Kong". Kenny Lei, a regular on the streets of Mongkok, said the protesters' actions are justified because of their pursuit of long-term interests.
Most of the protesters' demands, such as withdrawal of a resolution adopted by the country's top legislature, were deemed as outside the constitutional framework. Their actions are also feared to be doing long-term damage to the city's established foundations.
The Law Society of Hong Kong, in a Monday statement, said it is "deeply concerned and disturbed "by the open defiance of court injunctions by "certain quarters" of the community.
The rule of law and judicial independence formed the backbone of Hong Kong society, the society states, but those who used to claim themselves "strenuous guardians" of these attributes might have been acting in a way that threatens both the system and values.
Hong Kong Security Secretary Lai Tung-kwok told a committee meeting of the local legislature that the protesters' ignorance of law and order will eat into Hong Kong's tradition of rule of law. Lai was also wary of demoralization of protesters. Protest organizers had asked supporters to break the law with "peace and love", but Lai said that a standoff at Admiralty two weeks ago had showed neither.
Contact the writer at kahon@chinadailyhk.com