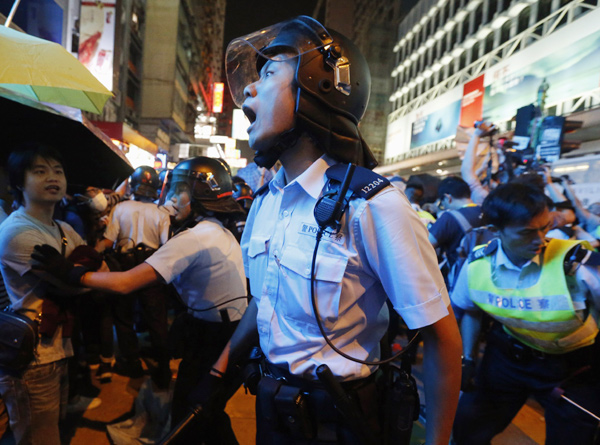 Policemen stand guard at Mong Kok shopping district in Hong Kong October 17, 2014. [Photo/Agencies]

HONG KONG -- China's Hong Kong police said Saturday morning that 26 people were arrested and at least 15 police officers injured after a night of clashes between police and thousands of protesters for control of Mong Kok.
Temporary calm was restored in the area, and the Nathan Road is now still occupied by protesters.
Hundreds of police officers removed barricades in Mong Kok Friday morning where Occupy movement participants had blockaded roads and streets since Sept 28.
Police said in a statement early on Saturday morning that the protesters were attempting to reclaim those streets partly cleared by the police.
HK police strongly condemned protesters who were illegally occupying a section of the southbound lanes of the Nathan Road in Mong Kok, saying that the protesters were attempting to occupy the northbound lanes of the Nathan Road and were also charging police cordons.
Police said up to 9,000 people gathered at the scene, and such acts were seriously undermining public order and safety. They also warned protesters to stop charging police.
After repeated advice and warnings fell on deaf ears, the police said they used pepper spray to stop the protesters from such acts.
Majority of police withdrew from the area after the protesters were dispersed after dawn.
Police reiterated that they would take resolute enforcement actions against any illegal acts endangering public order and safety.