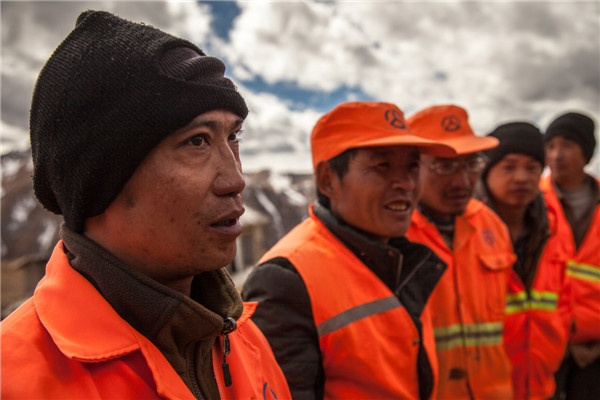 Five members of the 12-strong road maintenance team working at an altitude of 4,889 meters on Que'er Mountain in Southwest China's Sichuan province, Oct 15. From left to right are Zeng Shuangquan, the team head, Yang Chaoxiang, Lai Zhiming, Liu Xiaogang and Wang Yong. [Photo by Yuan Yong/Provided to chinadaily.com.cn] 
"For the past 15 years, I haven't spent Spring Festival, a traditional time for reunion, with my family, but have stuck instead to my post on this high-altitude, snow-clad mountain.
"While paying a three-day visit to our road maintenance team's station, where we live and work, during Spring Festival in February 2013, my wife broke her wrist after falling off an icy, slippery mountain slope while making phone calls there, the only place cellphone signals are available around the station."
When asked about the difficulties and hazardous moments his team members have experienced, Zeng Shuangquan, 43, the head of a road maintenance team on Que'er Mountain in Southwest China's Sichuan province, and a taciturn man who is normally shy in front of reporters' cameras, opens up.
"Nearly every one of our 12-member team suffers slight heart disease and pulmonary edema (lung swellings), both typical plateau diseases, as the oxygen density at our working area on the 4,889 meters is about 60 percent of that on the plain (flatlands). Some suffer eye problems due to long-time exposure to strong daylight, and daylight reflections on mountain snow,"Zeng said.
"A road maintenance job on this high mountain means dedication and sacrifice, but there has to be someone to undertake this job. If I quit, someone else will still have to be here, facing the altitude sickness, tough living conditions and long-time separation from family members."
The fifth road maintenance team under Dege County Road Management Bureau is located along the 317 State Highway, or the North Line of the Sichuan-Tibet Highway, on a 4,889-meter mountain slope on Que'er Mountain, a mountain range of 6,168 meters in height in Dege county in Garze Tibetan autonomous prefecture, in the western Sichuan province. The team is stationed at the highest position among all road maintenance teams along the 317 State Highway.
The 12 team members, 11 males and one female, are all Sichuan natives, mostly from suburban Chengdu, Sichuan province's capital city. Their ages range from 22 to 50. The team was established at the same spot in 1955, and Zeng is the 17th team head.