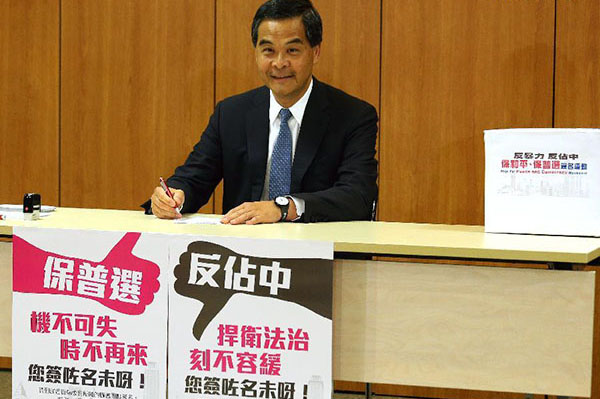 Hong Kong Chief Executive C Y Leung signs up to join the Anti-Occupy Central campaign in Hong Kong in this file photo taken on Aug 15, 2014. [Photo/Xinhua]
HONG KONG - Hong Kong Chief Executive C Y Leung Tuesday urged Occupy Central organizers to end the protest immediately.
Speaking ahead of the Executive Council meeting, Leung said the movement has been affecting people's daily lives.
Some major roads were blocked by the protesters and that has disrupted emergency fire and ambulance services over the past few days, he said.
Leung expected the protest to last for quite a long time, which will impact the city's economic development and its international reputation.
He reiterated that the government respected the people's rights to express their views, and hoped that they would also respect the rights of road users.