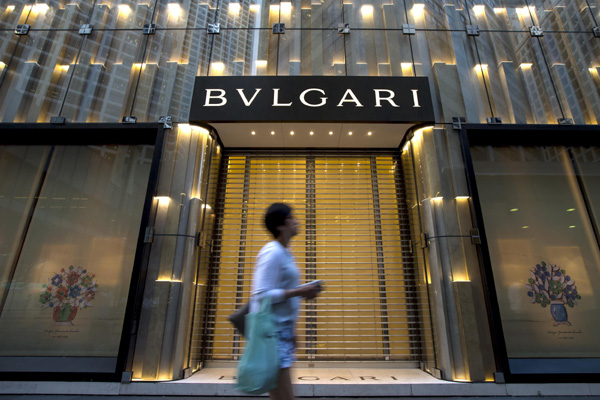 A woman walks past a closed luxury store as thousands of protesters occupy a main street to the financial Central district in Hong Kong September 29, 2014. [Photo/Agencies]
HONG KONG - Main roads in various locations in Hong Kong remained blocked as "Occupy Central" movement continued on Monday, leading to school suspension and traffic disruption in busy districts.
The movement, started off on early Sunday morning at the Government Headquarters in Admiralty, has extended to Central, Causeway Bay and Mongkok, the city's busiest areas, where an estimate of more than 20,000 of protesters were taking up the streets.
Traffic was heavily disrupted when some of the key roads were occupied, with more than 200 bus routes have been suspended or re- routed due to the widespread protest. Passengers were compelled to turn to the Mass Transit Railway, where some of the exits to Admiralty and Causeway Bay were closed.
A total of 36 branches, offices or ATMs of 20 banks located in the sit-in areas were temporarily closed in the morning, so were the shops nearby. Local banking system, however, operated normally, the Hong Kong Monetary Authority's reports said, adding the Hong Kong dollar eased slightly at opening but the exchange rate remained generally steady.
The Education Bureau announced a suspension of classes of all kindergarten, primary schools, secondary schools and special schools in Wanchai, Central and Western districts to safeguard students' safety.
A government spokesman appealed to those blocking the roads to vacate some of the carriageways to allow the passage of emergency vehicles and the partial resumption of public transport services.
As those people gathering on these roads have generally calmed down, Police have stood down the anti-riot deployment. The spokesman urged the people there to stay calm and disperse peacefully as soon as possible.
The police tried but failed to talk protesters into leaving the roads and hold assembly on the pavement.
Protesters called for withdrawal of the decision on Hong Kong's constitutional development made by the National People's Standing Committee last month.
Violence broke out between riot police and tens of thousands of protesters in Admiralty on Sunday when protesters charged the police cordon line. The crowd later spread towards Central. The Police fired volleys of tear gas to disperse the crowd during the night, leaving the area in chaos.
The Police said Monday afternoon in a press conference that a total of 41 people, including 12 police constables, were injured during the protests over the past few days. They urged protesters to cooperate and disperse peacefully to avoid affecting other members of the public.