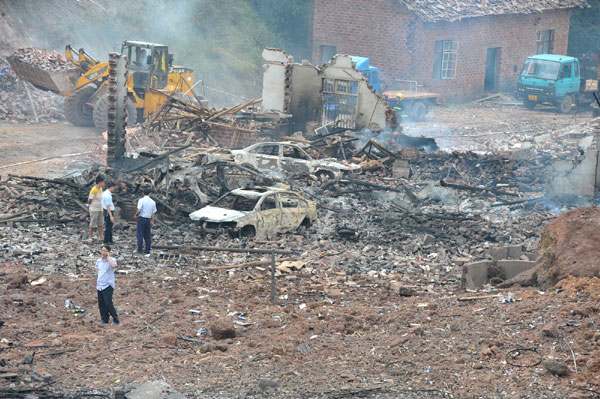 Rescuers comb through debris after a massive explosion at a fireworks factory killed at least 12 people and injured 33 in Liling, Hunan province. One employee of the flattened plant was still missing.[Photo/Xinhua]
A day after 13 people were killed in an explosion at a fireworks factory in Hunan province, the chief of China's work safety watchdog identified safety challenges and called for improvements in emergency response systems at an international work safety forum on Tuesday in Beijing.
The blast on Monday afternoon at the Nanyang Export Fireworks Factory in Baofeng, near the city of Liling, occurred while 47 employees were working. In addition to the 13 fatalities, 33 people were injured, including three passersby. One person is missing.
Yang Dongliang, head of the State Administration of Work Safety, stressed the severe challenges in maintaining workplace safety and said outdated technology and equipment in China's small and mediumsized companies is one of the primary factors behind recent accidents.
He made the remarks at the 7th China International Forum on Work Safety, but didn't address the Liling explosion directly during his speech.
"Despite improvements in overall workplace safety, the number of accidents in highrisk industries is rising," said Yang, who emphasized the importance of strengthening emergency response systems and upgrading rescue technologies.
Coal mining remains one of the country's highest risk industries, although authorities have made efforts and set timetables to improve safety measures in recent decades.
The administration reported 190 coal mine accidents that killed 319 people this year through May 20, but the number of incidents dropped by 30 percent year-on-year.
Twenty-nine workers were killed in coal mines for every 100 million metric tons of coal extracted last year, a figure 10 times the average in developing economies, according to the administration.
At the forum, a coal mine manager from Shandong province, who spoke on condition of anonymity, said China's risk management system is flawed and cannot effectively reduce accidents, even with precautionary technologies and equipment in place.
"Several coal mine gas explosions in recent years were ignited by shoddy equipment," he said, adding that the dated and lax procedure for procuring updated equipment is to blame.
He also said coal mine owners are not punished heavily enough for misconduct and do not pay adequate attention to workplace safety.
Chinese fireworks factories are often private, small businesses. Liling is a big production base for China's fireworks, which play a major role in traditional festival celebrations, including the Lunar New Year.
The factory was leveled and the surrounding areas scattered with debris. Several cars inside the plant were incinerated, and several nearby houses collapsed from the explosion. A search operation is still underway, with three excavators clearing the debris.