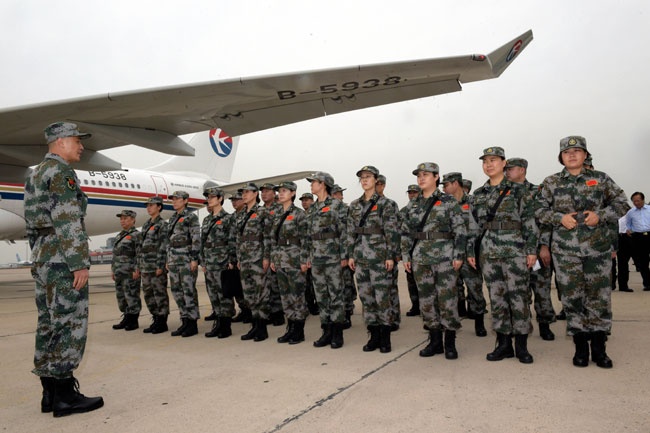 Members of a Chinese laboratory team line up before departing for Sierra Leone to help West African countries to contain the Ebola epidemic, in Beijing, capital of China, Sept. 16, 2014. [Photo/XInhua]
To further support Sierra Leone in its fight against the
Ebola
hemorrhagic fever epidemic, as well as to respond to the appeal of the UN and WHO to support Africa in controlling Ebola, China, at the request of the Sierra Leone government, will send a mobile laboratory testing team to Sierra Leone on September 16.
The team, equipped with 59 medical experts who specialize in laboratory testing, epidemiology, clinical medicine and nursing, will help Sierra Leone in testing the Ebola virus.
The testing team will work at the China-Sierra Leone Friendship Hospital aided by China, assisting Sierra Leone to do laboratory screening and observe suspected cases.
Since three West African countries broke out with Ebola, China has dispatched 115 medical experts to support the fight against Ebola in these countries.

The long-term medical team is equipped with 88 medical staff, and the short-term team is equipped with 27 experts.

At present, 33 medical staffers are working in the Ebola-hit areas. Together with 59 medical experts dispatched this time, Chinese medical staff in West African countries will reach 174 in total.
Related stories:
China offers new aid for combating Ebola