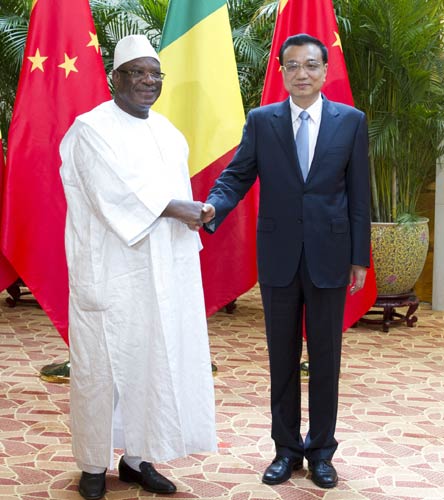 Premier Li Keqiang (R) shakes hands with President of Mali Ibrahim Boubacar Keita in the opening ceremony of the annual meeting of the Summer Davos forum in Tianjin, September 10, 2014. [Photo/Xinhua]
TIANJIN - Premier Li Keqiang said on Wednesday that China is prepared to "fight side by side" with West African countries to combat the Ebola epidemic.
Li made the remarks while meeting President of Mali Ibrahim Boubacar Keita, who is in North China's Tianjin municipality for the opening ceremony of the annual meeting of the Summer Davos forum.
He described China and Africa as "friends and partners that share weal and woe with each other," and said that China is gravely concerned for the fate of people in areas hit by Ebola.
China has sent three teams of experts and a chartered plane carrying supplies to Guinea, Liberia and Sierra Leone in spite of a high risk of infection. The supplies, worth 30 million yuan ($4.9 million), included medical protective clothes, disinfectants, thermo-detectors and medicine. The Chinese government will also help Sierra Leone set up an Ebola laboratory and an Ebola holding center.
Keita thanked China for its assistance.
Li also conveyed a greeting from President Xi Jinping to Keita. Li said China supports Mali's efforts at national reconciliation and economic development, and will strengthen high-level engagement and cultural exchanges, expanding bilateral cooperation in areas including agriculture, mining and infrastructure construction.
China will also continue participating in the peacekeeping action in Mali, the premier said.
Keita asked Li to convey his greeting to Xi and vowed to work with China to promote the development of Mali-China and Africa-China relations.
The 2014 New Leaders Meeting of the World Economic Forum, also known as the Summer Davos forum, will open in Tianjin on Wednesday afternoon. Li will address the opening ceremony.
Related stories:
Obama promises more US aid to stem Ebola outbreak