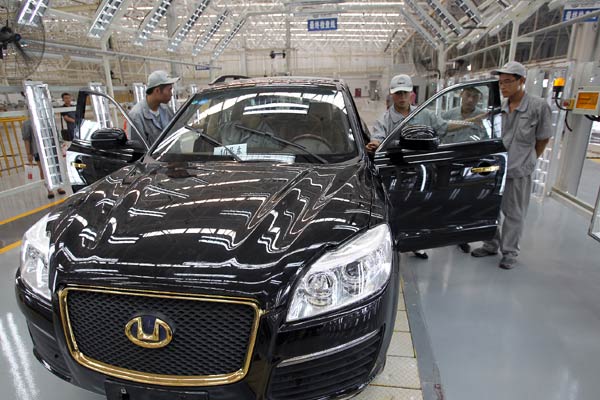 Foreign investments have flooded into Tianjin's automotive industry, and domestic automakers such as Huatai have also grown in strength. ZHANG WEI/CHINA DAILY
While the city has used the event to attract foreign investors, local companies have used it as a way to reach out overseas, Zhu Wenqian reports in Tianjin.
The 2014 Summer Davos Forum is being held in Tianjin from Wednesday to Friday. It is the fourth time Tianjin has hosted the event, and the city hopes to once again leverage economic opportunities from it, said event organizers.
"Tianjin aims to advance trade with foreign countries, and invite foreign investments into the city," said Wang Hezhen, deputy director of the Tianjin Event and Conference Office.
Since the first Summer Davos meeting in 2007, Chinese port cities Dalian and Tianjin have been taken turns to host the event every other year.
According to the Tianjin Event and Conference Office, not only have some global 500 companies, such as GE, Unilever, Volkswagen and US food company Archer Daniels Midland, expanded their presence in the Chinese market by building new facilities in Tianjin, since it started hosting the events, the Summer Davos also gives a boost to local businesses in Tianjin by helping them communicate with international enterprises. A few local firms have even emerged to be multinational corporations with significant growth.
Local companies are playing increasingly significant roles at the forum.
"An increasing number of entrepreneurs in Tianjin join the Summer Davos forum, and some of them participate in the annual winter Davos forum in Switzerland," said Zhang Jun, an official of the Tianjin Event and Conference Office.
"Entrepreneurs in Tianjin have become more sophisticated and have an international vision. In recent events they have made speeches and answered challenging questions," he said.
This year, five small- and medium-sized high-tech companies in Tianjin with minimum annual revenue of 300 million yuan ($48.78 million) have been selected to take part in this year's forum, and they are representing some 58,000 high-tech SMEs.
The local organizers have also emerged as participants rather than hosts, as a tremendous opportunity has developed for Tianjin as Beijing, Hebei province and Tianjin municipality are working on a joint development plan that aims to improve the region's overall competitiveness.
"In the past, we were more passive, but now we understand the significance of getting the world to talk about China and help us tackle our problems," Zhang said.
The World Economic Forum, a Geneva-based nonprofit foundation, mainly discusses issues that are essential to the world economy at its annual winter meeting in Davos, Switzerland. In 2007, the foundation established Annual Meeting of the New Champions, also called the Summer Davos, in China, to focus on issues relating to emerging economies.