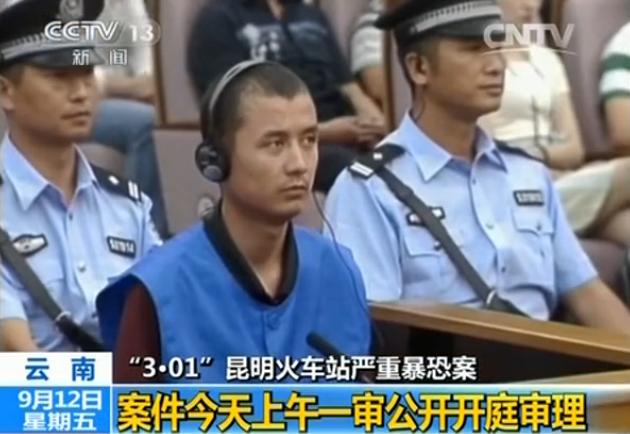 Sreen shot from China Central Television's news program shows a suspect of the Kunming train station terrorist attack sitting in the intermediate court of Kunming, the capital city of Southwest China's Yunnan province, Sept 12, 2014. Four suspects stood trial on Friday. [Photo /screen shot from China Central Television]
Three men were sentenced to death and a woman faces life in prison over the March 1 Kunming terrorist attack that left 31 people dead, Kunming's Intermediate court ruled on Friday, China Central Television reported.
The court said during an open trial that Iskandar Ehet, Turgun Tohtunyaz and Hasayn Muhammad received the death penalty for murder and leading and organizing a terrorist group. The fourth person, Patigul Tohti, was jailed for life for murder and joining a terrorist group.
All four of them were deprived of political rights for life.
As a precautionary measure, Kunming, the capital city of Southwest China's Yunnan province, has intensified police patrols. Police cars were seen around a downtown square, while armed police officers guarded the court.
The Kunming Municipal People's Procuratorate found that in total eight people were involved in the plot, and five of them carried out the attack.
The group of five knife-wielding assailants stormed the railway station on March 1 in one of the deadliest terrorist attacks the country has seen in recent years, which also left another 141 people hospitalized.
Police shot four of the assailants dead on the scene and detained the four who are now on trial.
Lawmakers, political advisors and some victims and their relatives are among more than 300 members of the public present at the ongoing trial, according to Xinhua.
China's judicial system has strengthened processing terrorism-related cases as part of the country's anti-terror efforts.
Three were sentenced to death in June and five others were jailed over a terror attack near Beijing's Tian'anmen Square in October 2013 by a court in northwest China's Xinjiang Uygur autonomous region.