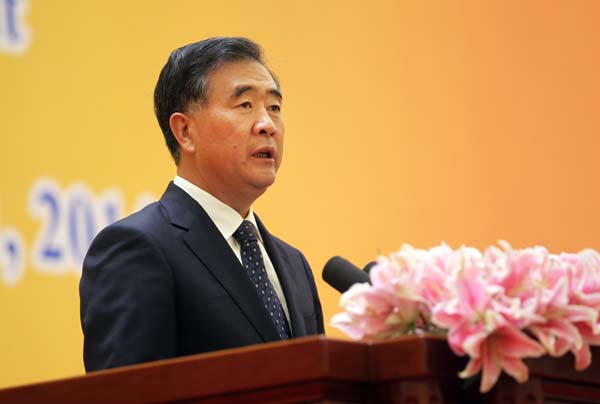 Chinese vice-premier Wang Yang addresses the opening ceremony of China-Eurasia Expo. [Photo provided to China Daily]
China will make every effort to advance major cooperation projects that have been signed with countries along the Silk Road Economic Belt to bring tangible results to local residents, Vice-Premier Wang Yang said on Monday.
The economic belt, which comprises more than 50 countries and could benefit more than 3.8 billion people, requires countries to work together to develop trade and lay out goals one step at a time, Wang said during Monday's opening ceremony of the China-Eurasia Expo. The expo, which runs through Sept 6, is being held in Urumqi, capital of the Xinjiang Uygur autonomous region.
In September last year, President Xi Jinping proposed during a visit to Kazakhstan that China and other countries build a modern Silk Road Economic Belt to boost cooperation and essentially revive the ancient trade route linking China and Europe that dates back more than 2,000 years.
Wang said China promises to import more goods, especially nonenergy products, from countries on the economic belt to achieve sustainable development.
The nation is also taking the lead in the establishment of an Asian infrastructure investment bank to fund infrastructure projects along the economic belt. Wang said poor connectivity and inefficient transportation infrastructure are constraining the development of the economic belt.
During the opening ceremony, he welcomed all countries along the trade route to become involved in the construction of the economic belt, adding that every country's concerns and opinions will be taken into consideration.
Most of the countries along the Silk Road are in Central Asia, and the proposal to build the economic belt could help the landlocked region unlock its potential, said Fan Gang, vice-president of the China Society of Economic Reform on Monday.
He said the development of transportation technologies has driven down the cost of land transportation and will be a boon to relatively less-developed Central Asian countries.
Zhang Chunxian, Party chief of Xinjiang, said that with terrorism and religious extremism becoming more active around the world, it is important to establish cooperation among countries to deal with the challenges.
Xinjiang, which experienced a series of terrorist attacks this year, saw its second-quarter GDP growth drop from first-quarter figures partially because of social instability, said Zhang Chunlin, director of Xinjiang's regional development and reform commission. Tourism in Xinjiang has also been adversely affected, he added.
Xinjiang's GDP growth ranked sixth among all provinces and regions in China last year - up 15 spots from 2011. Vice-Premier Wang said he hopes Xinjiang, which borders on eight countries, will take the new opportunity to become the core of the modern economic belt.
cuijia@chinadaily.com.cn