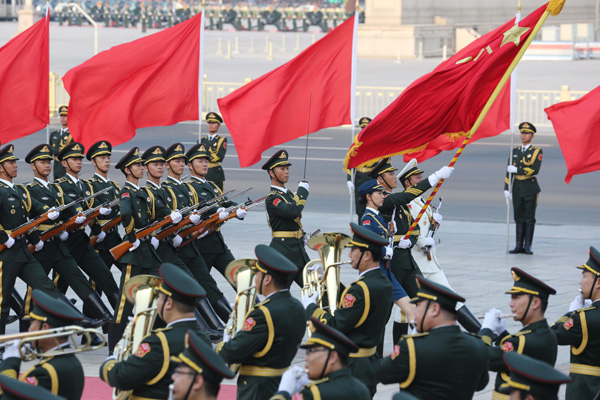 The Guard of Honor of the People's Liberation Army and the Military Band of the PLA, wearing a new type of uniform, perform at the welcoming ceremony attended by President Xi Jinping and visiting Uzbek President Islam Karimov at the Great Hall of the People in Beijing on Tuesday. Wu Zhiyi / China Daily
Top leaders from China and Uzbekistan mapped out the future of the countries' relationship on Tuesday by signing a joint declaration, ratifying a five-year plan and witnessing the sealing of seven agreements.
The agreements covered various areas including economic and technical cooperation, energy and financing.
The bilateral relationship is the best in its history and the newly inked documents will "lay a foundation" for the sides to deepen cooperation, President Xi Jinping told Uzbek President Islam Karimov in the Great Hall of the People in Beijing.
Xi called for both sides to boost trade and investment, saying that China encourages its enterprises to increase investment and participate in industrial park construction in Uzbekistan.
The countries should work together for the construction of the Silk Road Economic Belt, and strengthen cooperation in energy, financing, agriculture and transportation, Xi said.
The president highlighted the construction of Line D of the China-Central Asia natural gas pipeline and the China-Kyrgyzstan-Uzbekistan railway project. A gas pipeline has already linked the countries.
Calling China a "most reliable partner", Karimov said Uzbekistan would learn from China's successful experience in development. The Uzbek side welcomes Chinese investment and would like to participate in Beijing's proposals for the Silk Road Economic Belt and the Asian Infrastructure Investment Bank, he said.
Karimov received a red-carpet reception before his second meeting with Xi this year. He attended the fourth summit of the Conference on Interaction and Confidence Building Measures in Asia in Shanghai in May.
Xi also visited Uzbekistan in September in his first state trip to Central Asia since taking office in 2013.
Cheng Guoping, vice-minister of the Foreign Ministry, called the latest visit "a successful one" on Tuesday, saying a sound relationship between China and Uzbekistan is helpful to peace and stability in Central Asia.
Karimov is scheduled to meet Premier Li Keqiang and visit Xi'an, Shaanxi province, on Wednesday, Cheng said.
China is Uzbekistan's second-largest trading partner and its biggest investing country. Two-way trade volume reached $2.88 billion in 2012, a year-on-year surge of 32.8 percent.
Observers said the two economies are highly complementary. Uzbekistan boasts rich oil, gas and mineral resources, while China has a technological edge in energy, transportation, telecommunication, agriculture, mechanical equipment, light industry and household appliances.
Cooperation in non-energy sectors has also improved recently. The Pengsheng industrial park in Uzbekistan, the biggest non-energy cooperation project between the countries, received investments of more than $43 million by September.
The leaders also pledged on Tuesday to strengthen cooperation in fighting terrorism and extremism. China has been hit by a slew of terrorism attacks this year.
zhaoshengnan@chinadaily.com.cn