Editor's note: During his visit to Kazakhstan in September, President Xi Jinping proposed that China and Central Asia join hands to build a Silk Road Economic Belt to boost cooperation. The idea has been widely echoed in Central Asian countries, becoming an encouraging blueprint for Chinese areas along the Silk Road that linked Asia and Europe for more than 2,000 years. China Daily reporters will travel through the belt to show the progress and expectations of the countries, businesses and peoples on the route.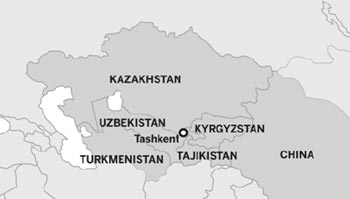 China and Uzbekistan should maintain their level of cooperation as relations have reached an all-time high, according to the Chinese ambassador to the Central Asian nation.
Sun Lijie also said the Chinese proposal for a Silk Road Economic Belt has been supported by Uzbek President Islam Karimov and the Uzbek society.
"Uzbekistan has shown great interest in the Silk Road Economic Belt and emphasized that it is willing to take part in the construction of related projects," Sun said.
The ambassador said figures from Chinese customs authorities show that trade between China and Uzbekistan exceeded $4.5 billion in 2013 and that China has become Uzbekistan's second-largest trading partner and largest investor.
Uzbekistan plays significant roles in China's energy supply, Sun said.
Wu Hongwei, a researcher at the Institute of Russian, Eastern European and Central Asian Studies under the Chinese Academy of Social Sciences, said although the energy sector is a highlight, China and Uzbekistan also have trade ties in other areas, such as agriculture.
Sun feels that both countries have their own strengths-Uzbekistan has abundant natural resources and a highly qualified labor force, while China has financial strength, powerful technological advantages and rich experience in management.
The two countries have a friendship dating back more than 1,000 years and both governments have made considerable efforts on education, culture, technology and tourism, Sun said.