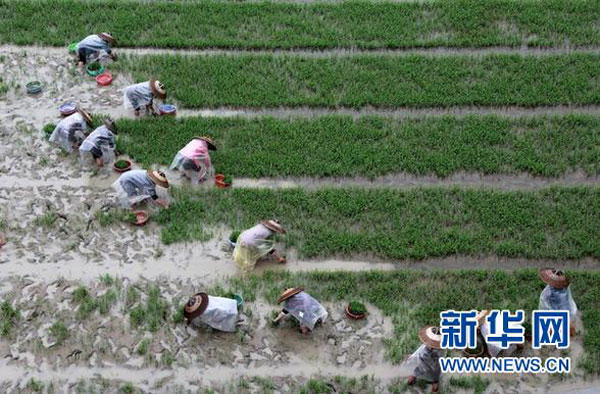 Farmers plant the new hybrid rice breed in the experiment field in Central China's Hunan province. [Photo/Xinhua]  
A new kind of hybrid rice developed in China is expected to achieve a target yield of a thousand kilograms per mu, or 6070 kilograms per acre, this year.
Yuan Longping, the leader of the development team, says the hybrid rice is growing quite well in test fields in Central China's Hunan province.
"I estimate that some rice fields will surpass the target this year. But whether we can achieve the target in a hundred mu depends on weather conditions and final-period management, like controlling plant diseases and insects. Right now we are still very hopeful."
The 83-year-old scientist says he wants this new rice to reach its production target, commercially, before he's 90.
Yuan, known as the "father of hybrid rice", started developing hybrids in the 1960s.
His research team has reached the target yield in the first three phases of the current experiment, with each setting world records.
Right now the fourth phase of experiment is being carried out in 13 Chinese provinces.