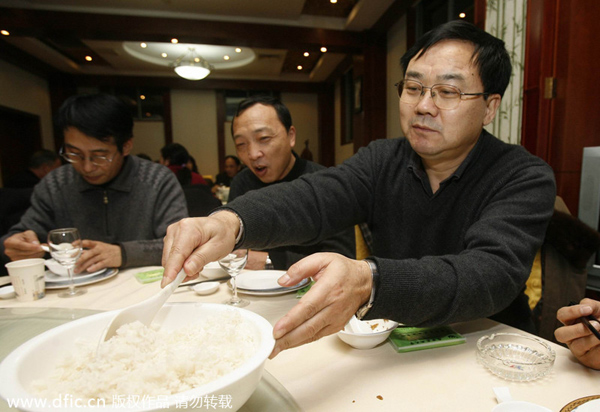 This file photo taken in 2010 shows Zhang Qifa eats GM rice at a public event promoting genetically modified food. [Photo/IC]
A professor at Huazhong Agricultural University is suspected of getting involved in a genetically modified (GM) rice scandal in Wuhan, Centrall China's Hubei province, the Beijing Youth Daily reported.
CCTV reported over the weekend that three out of five bags of rice bought at supermarkets in Wuhan were found to contain Bt63, an ingredient from a GM rice string named Bt Shanyou 63.
Bt63 GM rice was developed and patented by Huazhong Agricultural University. It received "GM organism safety certification" in 2009, but has yet to get approval for commercial production.
Zhang Qifa, also a member of the Chinese Academy of Sciences, was the team leader of the Bt63 GM rice project. He used to be CEO of a company named Kenier. The company has been punished by local authorities for growing unauthorized GM rice.
Zhang said that during the trial stage of Bt63 rice, Kenier delegated other companies to produce Bt63 GM rice seeds. Some companies might have sold the seeds without Kenier's knowledge, Zhang added.
The Bt63 rice variety was popular among Wuhan growers because of its pest resistance.
In May, a foreign organization claimed that GM rice had been found in samples from Wuhan, and that the source of the Bt63 rice seeds was Huazhong Agricultural University.
The university said it doesn't recognize the report and doubts the legitimacy of the foreign group's test.