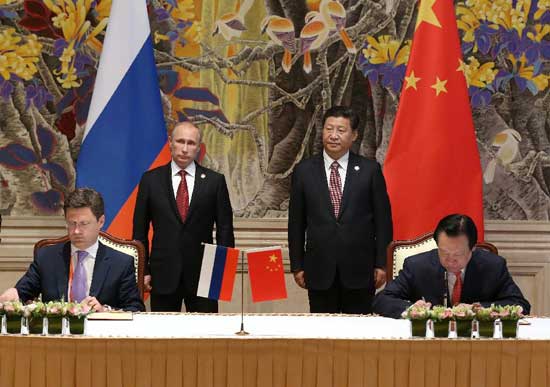 Chinese President Xi Jinping (2nd R) and Russian President Vladimir Putin (2nd L) attend the signing of the China and Russia Purchase and Sales Contract on East Route Gas Project and a memorandum in Shanghai, May 21, 2014. [Photo/Xinhua]
A Russian nuclear energy group is researching a project proposed by China to build two nuclear power facilities in Harbin, northeastern Heilongjiang province, according to a statement by China's Ministry of Commerce.
Russia's State Atomic Energy Corporation (Rosatom) is to send experts to investigate, said the company's director for capital investments, Gennady Sakharov.
As a nation with rich nuclear experience, Russia wants to strengthen cooperation with China, said Sakharov.
Russian news website Rusfact.ru said China has the world's second largest nuclear energy demand after the United States, and China has no nuclear power plants in inland areas. Most Chinese nuclear energy plants are in coastal zones, it added.
Russia and China signed a joint statement declaring a new strategic partnership, with cooperation in atomic energy development and use being the priority, during the Conference on Interaction and Confidence Building Measures in Asia (CICA) summit in Shanghai in May.
Rosatom and the China Atomic Energy Agency signed a memorandum of cooperation on matters relating to the construction of nuclear power stations after the conference.
Russian President Vladimir Putin's two-day visit to Shanghai during the CICA summit marked China-Russia cooperation in the energy sector becoming closer.
China's President Xi Jinping and Putin witnessed the signing of a long-delayed $400 billion natural gas deal on May 21 - after more than 10 years of negotiations.
According to a bulletin on the China National Petroleum Corporation's website, the contract will come into effect in 2018. A new pipeline will provide China with 38 billion cubic meters of natural gas per year.