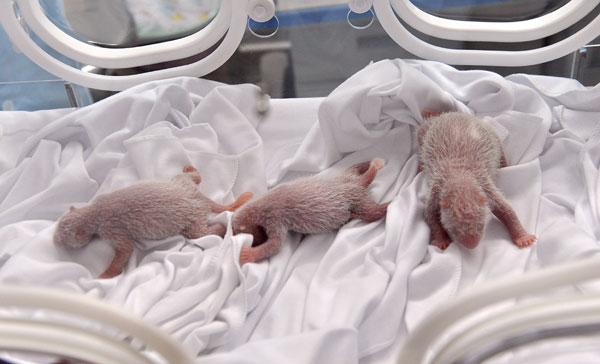 A giant panda named Juxiaogave birth to three cubs in Chimelong Safari Park, South China's Guangzhou city on July 29, 2014. The trio are said to be the only panda triplets to have survived anywhere in the world.[Photo provided to China Daily] More photos
Giant panda Juxiao gave birth to live triplets in Guangzhou, the capital of Guangdong province, last month, a local safari park said on Tuesday.
The cubs are believed to be the only live panda triplets in the world, according to the Guangzhou Chimelong Safari Park.
It took almost four hours for the Juxiao to deliver her three, which weighed 83 grams, 90 grams and 122 grams when born on July 29, said Dong Guixin, general manager of the Chimelong park.
"After nearly half a month under the care of the mother, the babies are very healthy," Dong said.
"They now weigh nearly two times what they did when whey were born."
According to Zhang Heming, director of the China Conservation and Research Center for the Giant Panda, there is only a 1 percent chance for triplet panda cubs to survive birth.
"Now we have created a miracle. The three pandas have a great chance of staying alive as they are now very healthy," Zhang said.
qiuquanlin@chinadaily.com.cn