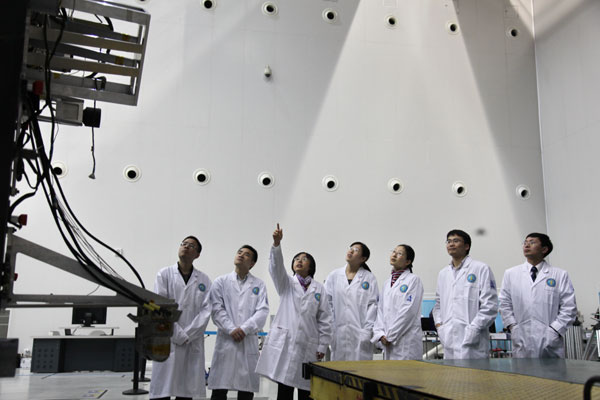 Members of a space control research team from the China Academy of Space Technology in Beijing discuss how their lunar probe will perform during rendezvous and docking procedures. Provided to China Daily
For Wang Pengji, the moon is more than a celestial body he often stared at in the past. Today, he now has something on the silver sphere.
"Each time I look at the moon, I know she is working hard to realize our dream of exploring the immense universe," the 38-year-old space expert said, referring to Chang'e-3, China's latest lunar probe. Chang'e-3 made the first soft landing on the moon in nearly four decades last year.
"The day - Dec 14, 2013 - has been enshrined in my life as it witnessed the successful Chang'e-3 landing on the moon," he added.
The lunar craft is named after a moon-residing goddess in Chinese mythology.
"I even wrote a poem for it," Wang recalled, reciting its stanzas: "Having lived for 30 years in solitude, Chang'e now is descending on the multitude."
Wang was speaking at an open house of the China Academy of Space Technology in Beijing to introduce an elite 37-member space control research team.
Members of the team mainly work on Chinese spacecrafts' guidance, navigation and control systems, and their achievements have enabled Chinese satellites, Shenzhou spacecraft, Tiangong space stations and Chang'e lunar probes to fulfill their missions.
Without the efforts of Wang and his teammates, it would have been impossible for China to soft-land the 3.8-metric-ton Chang'e-3 on the moon, because such cutting-edge technology can never be directly obtained from the United States and Russia, which had dominated lunar exploration for nearly half a century.
The Chang'e-3 mission is the second phase of China's lunar program, which will include orbiting, landing and returning to Earth. It follows the success of the Chang'e-1 and Chang'e-2 missions in 2007 and 2010.
Chinese scientists and engineers are currently focusing on the third step of the program - landing on the moon and returning to Earth with samples. That mission will be conducted by the Chang'e-5 probe around 2018.
"We have begun to study how the Chang'e-5 will blast off from the moon and dock with the in-orbit re-entry capsule," Wang said.
In addition, this team is striving to command the key technologies that will be adopted in the country's future space programs such as Mars probes, manned missions to the moon and space-based solar power projects.
Zhang Jun, a member of the team who specializes in control systems for large multipart spacecraft, said, "The development period of the satellite solar power station can be as long as 30 years, which means its researchers will likely spend their entire careers on it." The purpose of the satellite solar power station is to generate electric energy in orbit and transfer it to Earth via wireless technology.
He continued, "Doing space research in China requires one to persist in possibly longtime anonymity, unremitting diligence and sacrifice of the family life."
His words were echoed by Xing Yan, head of the space control research team, who said she barely has time to spend with her son.
"But my son is very proud of my work because he knows exactly what I do is for the good of the motherland," Xing said, smiling. "He even told his classmates with pride that we once returned our flight tickets since I had to go back to the academy to fix the problems of the Yutu lunar rover, which was then operating on the moon."
The toil, tears and sweat of these Chinese scientists, whose average age is 34 - far younger than their foreign counterparts - are paid without any regret, as China's space endeavor has turned into a personal pursuit in their life, according to Ma Yanhong, a research supervisor at the academy.
"In the space field, we can depend on no one except ourselves. We have no other choice but to try the best to live up to the expectations of 1.3 billion people," Ma said.
zhaolei@chinadaily.com.cn