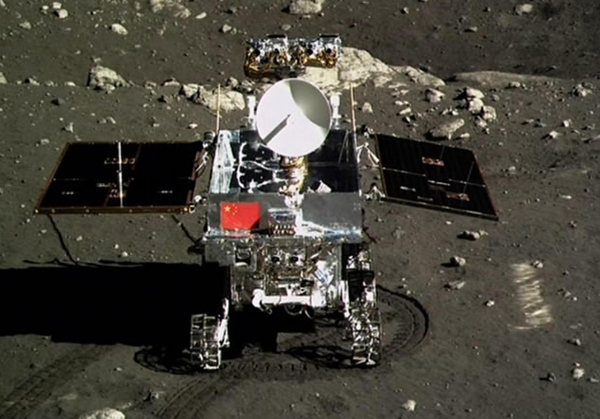 Yutu, China's first moon rover, is shown in this picture taken by lunar probe Chang'e 3's lander on Dec 15, 2013.[Photo / Xinhua]
BEIJING - China is scheduled to launch its Chang'e-5 lunar probe in 2017 and the mission will bring back samples collected from the moon.

"The development of Chang'e 5 is proceeding smoothly," said the administration's spokesman Wu Zhijian at a press conference on Monday.
The just-concluded Chang'e 3 mission marked completion of the second phase of the country's lunar program, which includes orbiting, landing and returning to Earth.
The lunar program will enter the next stage of unmanned sampling and returning, which will include Chang'e 5 and 6 missions, according to Wu.
"The program's third phase will be more difficult because many breakthroughs must be made in key technologies such as moon surface takeoff, sampling encapsulation, rendezvous and docking in lunar orbit, and high-speed Earth reentry, which are all new to China," Wu said.
As the backup probe of Chang'e 3, Chang'e 4 will be adapted to verify technologies for Chang'e 5, according to Wu.
China's Chang'e 1 and Chang'e 2 missions were in 2007 and 2010.
Launched on October 1, 2010, Chang'e 2 is about 65 million km from Earth and is China's first man-made asteroid. It is heading for deep space.