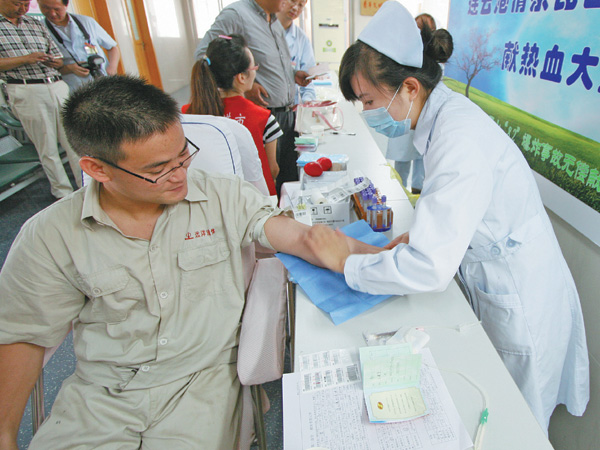 Residents donate blood for victims of Kunshan wheel-polishing workshop explosion in Lianyungang, Jiangsu province, on Monday. The first batch of about 100,000 ml of donated blood has already been transported to hospitals for the injured. Geng Yuhe / Xinhua
The workshop explosion in Kunshan on Saturday, which has claimed at least 75 lives and injured 185, was a major accident for which company leaders and local government should take responsibility, according to the investigation team.
The team, headed by Yang Dongliang, director of the State Administration of Work Safety, said company leaders neglected safety regulations.
Many workers at Kunshan Zhongrong Metal Products confirmed that the wheel-polishing workshop caught fire two months ago but no one paid attention as the fire was extinguished quickly.
Song Changxing, a former worker at Zhongrong, said he started to vomit large amounts of blood and had nosebleeds before he was diagnosed with pneumoconiosis, a disease of the lungs caused by inhalation of dust.
"The dust from polishing the metal fell heavily on the ground once we started to work," said the 44-year-old, who worked for the company from 2004 to 2012. "After working for several hours, every worker was covered by dust. Only the workers' teeth remained their original color."
"No one ever taught us any safety regulations, except that we can't smoke or light a fire," Song said. "But some workers also smoke in a toilet about 5 meters away from the workshop."
Song has to take many pills a day to fight pneumoconiosis. Though he has spent about 200,000 yuan ($32,360) on medication, Zhongrong only agreed to pay less than 80,000 yuan after local police and the labor department negotiated for him.
Liu Fuwen, another worker, said that people felt tightness in their chest and had difficulty breathing once they entered the workshop.
"The workshop had no necessary equipment to remove dust or monitor the dust density," said Liu. "If government officials checked the environment of the company, the leaders would ask workers to clean the dust before they arrived."
The investigation team confirmed that the explosion was triggered when a flame was lit in the wheel-polishing workshop, which was full of dust.
It also blamed the local government for its lack of supervision.
The patients have been sent to 15 medical institutions in Jiangsu province and Shanghai. Police have detained five company leaders and started to identify the bodies by DNA tests.
Suzhou, which has Kunshan under its jurisdiction, has suspended more than 135 companies that produce heavy dust by polishing metals. The nearby city of Nanjing also suspended similar companies to ensure safety.
cangwei@chinadaily.com.cn