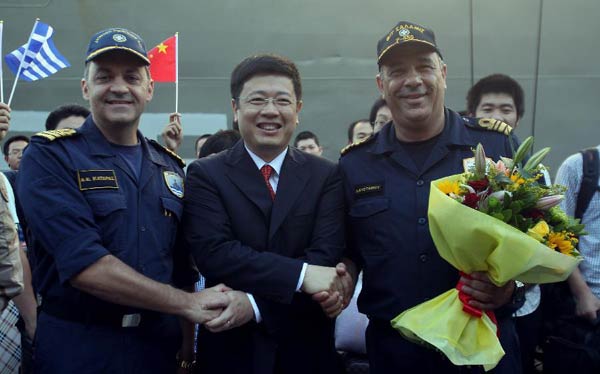 Chinese Ambassador to Greece Zou Xiaoli (C) shakes hands with captains of Frigate Salamis at Piraeus port, Greece, on Aug 2, 2014. Greek frigate Salamis with Greeks and foreign nationals evacuated from violence-hit Libya on board reached Piraeus port on Saturday. [Photo/Xinhua]
ATHENS - A Greek warship carrying 187 people, including 79 Chinese nationals, from violence-wracked Libya reached the Greek port of Piraeus on Saturday.
The "Salamis" frigate sailed off Libya's capital of Tripoli on Thursday to evacuate Greek diplomats and citizens living in Libya, as well as foreign nationals upon request by foreign governments.
According to Greece's Defence Ministry, among the evacuees, there were also 77 Greeks, 12 Cypriots, 10 British, seven Belgians, a Russian and an Albanian.
The evacuees were warmly welcomed at Piraeus by Greek officials, Chinese ambassador to Greece Zou Xiaoli and Chinese Embassy staff members, as well as representatives of the embassies of other countries concerned.
Zou expressed China's gratitude to the Greek government and the crew for the assistance to evacuating the Chinese nationals from Libya.
Three years ago, China evacuated 35,000 Chinese from the North African country, with 13,000 ferried via the Greek island of Crete.
Clashes in Tripoli and the eastern city of Benghazi between rival militias have left at least 214 people dead and 981 others wounded since July 13.