More foreigners withdraw from Libya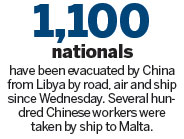 More countries have closed embassies and evacuated their nationals from warring Libya as the security situation continues to deteriorate.
In the latest violent incident on Wednesday, a Libyan special forces base in Benghazi fell into the hands of Islamist militants after a weeklong battle. The special Thunderbolt force was evacuated from its main camp in southern Benghazi.
Fighters of the Shura Council, one of the armed groups in the coalition of Islamist fighters, took the main camp and several other army strongholds and vowed to hunt down the remnants.
China has evacuated about 1,100 nationals by road, air and ship since Wednesday. Several hundred Chinese workers were taken by ship to Malta, which has arranged temporary accommodations for them.
China again urged on Wednesday that its nationals leave the country and pledged to offer necessary assistance.
The Foreign Ministry said in a statement on its website that embassy staff will also be evacuated gradually.
Around 1,000 Chinese citizens have left Libya since May when the security situation slid sharply backward. Many Chinese corporate staff members, businessmen and contract workers have traveled by road into neighboring Tunisia, while others flew using the remaining operational air hubs, such as Tripoli's Mitiga Airport and Misrata Airport.
Also on Wednesday, France decided to temporarily close its embassy in Libya and has started evacuating its citizens.
Brazil pulled its diplomatic staff back to Tunis on Wednesday; however, it stressed that this does not mean the embassy will be closed.
The United States, Germany, Canada and other countries have already closed their embassies in Tripoli, while several countries including Britain, Germany and Egypt advised their nationals over the weekend to leave immediately.
The recent battles between Islamist fighters and pro-secular militia around Tripoli's international airport have killed at least 97 and wounded more than 400, paralyzing most air traffic.
(China Daily 08/01/2014 page12)