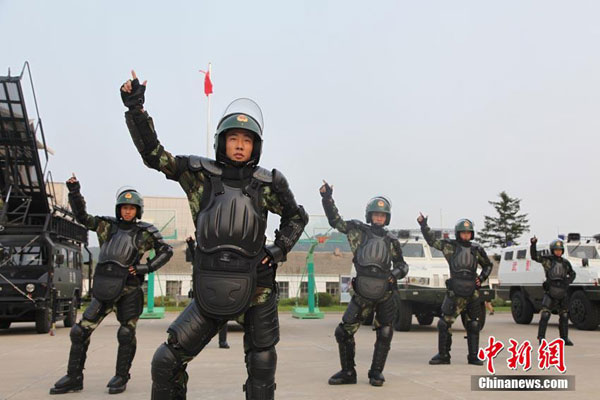 Armed police perform a dance to the song 'Little Apple' in Jilin city, Jilin province, July 29, 2014. [Photo/Chinanews.com]
Armed police in Northwest China's Jilin province joined the party by performing a "Little Apple" dance, featuring a hit song, and became an instant hit online.
The song, originally by China's Chopstick Brothers, enjoyed great popularity around the nation for its melody and lyrics.
Previously, the Conscription Office in Xi'an, Northwest China's Shaanxi province released its version of "Little Dance" to recruit young people.
It is the first time the People's Liberation Army has used a popular song for promotion, showing a different side from the stern impression the military used to convey. Unlike previous conscription campaigns highlighting commitment and contribution, the innovation reflects the Chinese army's attempt to create a more close-to-the-people image.
Many people have given credit to the army, saying the video is fascinating and humorous. "Those soldiers are so cute and I want to join the army after watching it", one said online.
But for some, the video is not in accordance with Chinese soldiers' serious image. "I'm really concerned about the Chinese army's quality after seeing the video. It's like a spoof. If those soldiers were on a battlefield, could they win the war?" one critic said.
PLA's promotional video "Little Apple" (External link)