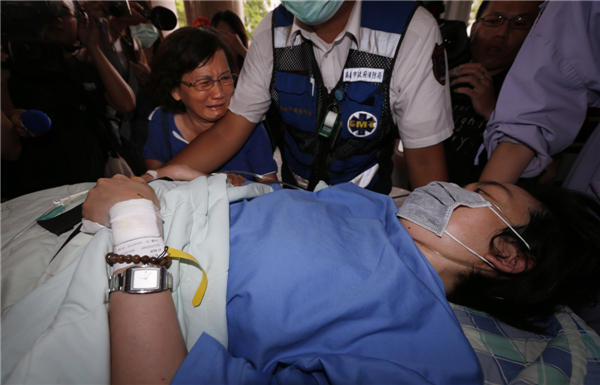 Hu Hong-jiao, 60, cries, as her 34-year-old daughter Hu Yu-jie, one of the survivors of TransAsia Airways plane crash on Taiwan's offshore island of Penghu, arrives at Kaohsiung Veterans General Hospital in Kaohsiung July 24, 2014. [Photo/Agencies]
TransAsia said on Thursday that it is offering condolence payment of 200,000 new Taiwan dollars ($6,673) for each passenger, and a funeral subsidy of 800,000 new Taiwan dollars.
Taiwan authorities said on Thursday it was unlikely bad weather was the cause of the crash of the TransAsia Airways turboprop plane which killed 48 people, including two French nationals, Taiwan-based news network tvbs.com.tw reported.
The plane, with 58 people on board, smashed into residential buildings near the airport on the Taiwan holiday island of Pengdu, after a failed emergency landing. There were 10 survivors.
Family members of passengers on board TransAsia Airways Flight GE222 which crashed on Wednesday are rushing to Magong Airport.
One of the black boxes has been found, according to the authority.
The twin-engine ATR-72 turboprop aircraft was originally scheduled to take off at 4 p.m., but left Kaohsiung at 5:43 pm due to bad weather.
As the plane was preparing to land at Magong Airport in heavy rain, it was forced to pull up due to poor visibility.
The aircraft requested to circle above before trying to land but lost contact with the tower, said Jean Shen, director general of Taiwan's civil aeronautics administration, at a press conference.
On its second attempt at landing, the flight crashed into residential buildings in the village of Xixi in Penghu. Several villagers were also injured in the crash, according to local media reports.
It is not instantly clear what had led to the failed landing. Wang Hsing-chung, head of Taiwan's aviation safety council, said it is still too early to speculate the cause of the crash.