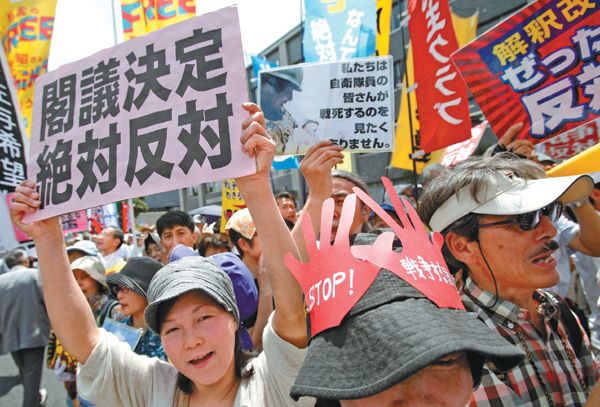 Protesters in front of Japanese Prime Minister Shinzo Abe's offi cial residence in Tokyo shout slogans at a rally on Tuesday against his push to expand the nation's military role. [Photo/Agencies] 
Expert says move will 'add more uncertainty to the region's future'
Thousands of demonstrators from all over Japan loudly protested outside Prime Minister Shinzo Abe's official residence on Tuesday after he announced his Cabinet's decision to lift the decadeslong ban on collective self-defense.
The Cabinet announced it will reinterpret Article 9 of the Japanese Constitution to allow for collective self-defense, or coming to the aid of an ally under attack. The article bans the use of military force to settle international disputes and prohibits Tokyo from sending troops overseas to fight.
On Tuesday, Beijing protested Tokyo's strategy of pushing a domestic political agenda by hyping the "China threat".
The Japanese Cabinet has taken unprecedented measures in military and security fields, which has prompted "a major change in Japan's defense policies", Foreign Ministry spokesman Hong Lei said. "People cannot help but question whether Japan will change its path of peaceful development, which has been upheld since the war," Hong said.
The South Korean Foreign Ministry said in a statement that "when it comes to Japan's security discussions, the Japanese government should dispel doubts and concerns stemming from history, abandon historical revisionism and behave properly in a bid to win confidence from neighboring countries."
A Japan Times editorial described the new interpretation as "a fundamental departure from Japan's postwar defense posture".
The move also met with widespread political opposition in Japan.