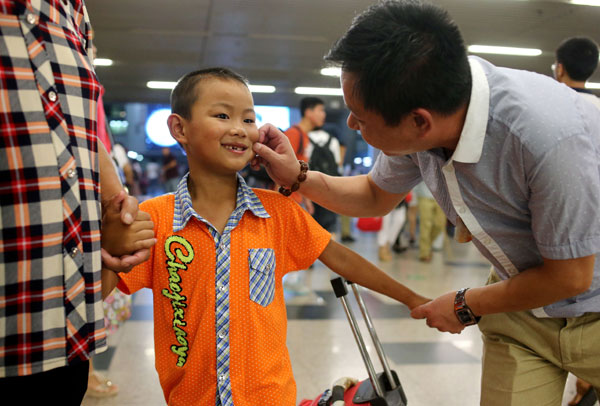 Li Lianjun checks the new smile of his son Li Hao, who arrived at the Beijing West Railway Station from his hometown in Jiangxi province. Children of migrant workers oft en visit their parents in big cities as the summer holidays begin.[Wang Jing/China Daily]
Pu Zhihua, a migrant worker living in Beijing, was thrilled to finally reunite with his 9-year-old son at Beijing Railway Station on Monday.
"I am really excited to pick him up at the station," Pu said.
It has been six months since he kissed the boy goodbye.
Pu and his wife, both from Anhui province, run a breakfast stall in Beijing. As thousands of migrant couples do, they spend days and nights missing a child left behind in their hometown.
Pu's son, Pu Xiaolong, along with 94 schoolmates, boarded a train bound for Beijing on Sunday, hoping to spend their summer vacation with their parents.
The trip was initiated by Ji Daoxiao, a primary school headmaster in rural Anhui.
"More than 80 percent of my students are the children of migrant workers. They are left at home, but they should not be left behind. It is important for children to spend quality time together with their moms and dads as much as possible," Ji said, adding that left-behind children deserve more than just public concern. A better education model must be formulated to fulfill the family needs of both them and their parents, he said.
"Students asked me for help. They cried for their moms and dads," he said.
Most left-behind children would not be able to spend summer vacation with their parents without such an organized trip.
Ji started the activity in 2012. The first year, a total of 35 students arrived in Beijing safely. The number has increased to nearly 100.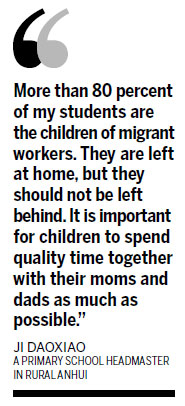 Safety issues have always been Ji's first priority.
"I have received help from the railway station, the police department and other organizations," he said.
Two professors at Beijing Normal University approved of the idea.
Yuan Guilin, a professor of education, said it's important for migrant children to spend more time with parents. However, Yuan also called for attention to their happiness while in the city.
Zhang Yan, a professor of early childhood education, agreed.
"You shouldn't think all migrant workers' children should live the same life as urban children. Most are happy with the status quo," Zhang said.
Widespread reports indicate that many left-behind children find solace in the Internet or simply feel lost. However, their lives in the city are not always ideal.
Although no reliable data show how many rural children come to the cities during summer vacations, an estimate by the All-China Women's Federation placed the number of children growing up in outlying villages without their parents at about 61 million.
luowangshu@chinadaily.com.cn