CHENGDU - A giant panda gave birth on Monday to twin cubs in Chengdu, capital city of Southwest China's Sichuan province.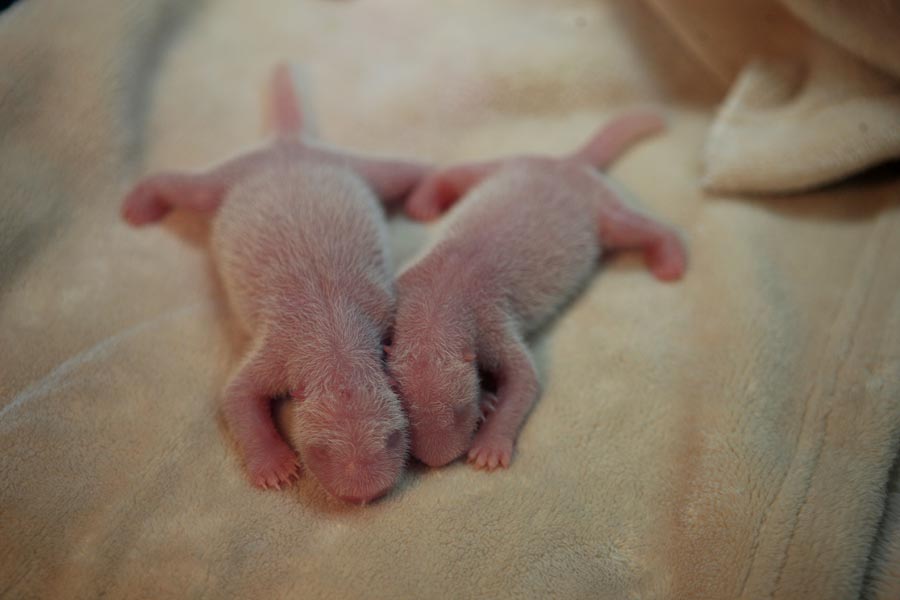 The twin panda cubs are the first pair born in Chengdu, capital of Sichuan province, in the Year of the Horse. [Photo/Asianewsphoto]
Yaxing gave birth to the twins -- a female and male -- at 8:13 am and 8:44 am at the Chengdu Research Base of Giant Panda Breeding, scientists told Xinhua.
They are the first set of panda twins to be born this year in the city.
The cubs, weighing 146 grams and 117 grams respectively, are the second and third offspring of Yaxing. They were born more than four months after the mother naturally mated with Yongyong on Feb 22.
Panda breeders and veterinarians are looking after the mother and her babies at the base, which has the world's most captive-bred giant pandas with 129.
Last week, a giant panda named Yangyang gave birth to twins in Northwest China's Shaanxi province.
Forty-nine cubs were born last year in China, with 42 surviving, a record for giant panda breeding in the country.
Thanks to the development of breeding technology, the number of captive-bred giant pandas around the world rose to 376 by the end of 2013. It is estimated that about 1,600 pandas live in the wild.