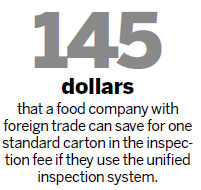 The newly unified export and import inspection system that covers Beijing and Tianjin municipalities and Hebei province will boost foreign trade in the capital region, a senior official from the Beijing quarantine authority said on Monday.
Effective on Tuesday, 2,516 export companies and 10,123 companies with an import business in Beijing will benefit from the unified inspection system, said Yang Jie, deputy head of the Beijing Entry-Exit Inspection and Quarantine Bureau.
All exported goods from the cities in the Beijing-Tianjin-Hebei region will have simplified procedures. Only one inspection will be required, at the place of production, instead of the current two inspections, which includes a second one from customs officials at the export port.
In addition, quarantine authorities in the three areas will recognize inspections conducted by their counterparts.
Imported commodities in some pilot cities will be permitted to move directly from ports to the destination cities where they will be inspected by local quarantine authorities, instead of waiting for inspections from customs authorities at the port, as has been the case.
The companies in all cities in the coordinated region will enjoy the new procedure on imported goods as of Jan 1.
The three areas will also share an information platform, providing the same service for all companies in the region.
"The inspections and quarantine unified system will shorten the time and expense in foreign trade greatly," said Liu Yuping, director in charge of inspection and quarantine clearance in the capital's inspection authority. The average waiting time for inspection of a single batch will be reduced by one day at least, he added.
A food company with foreign trade can save 900 yuan ($145) for one standard carton in the inspection fee. And if the company uses cold-chain transportation, the reduced inspection will allow it to cut another 2,260 yuan per standard carton.
Yang, the deputy head of Beijing's inspection bureau, said the region's unified inspection system will give the capital direct access to the seaports in Tianjin, Caofeidian district in Tangshan, and other cities in Hebei.
The reduced expenses in procedures and easy access to the ports will serve the companies better, fueling foreign trade in Beijing, he said.
To protect the safety of imports and exports, quarantine authorities have listed the types of goods that must undergo a thorough inspection, including the imports and exports of animals, plants, food, cosmetics and dangerous chemicals.
"We simplify the procedures, yet keep the strict standards on the inspection to control possible risks in epidemic diseases or hazardous matters," said Chen Shisong, the official in charge of plant and animal issues.
But the rigid inspection only affects a small proportion of the goods. Ten major categories from the import list are required to have a thorough inspection, accounting for 28 percent of all import goods, while five categories are in the export list, or 0.58 percent of the total.
zhengjinran@chinadaily.com.cn