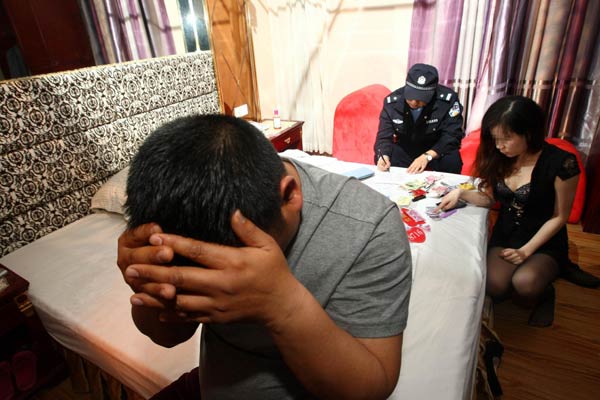 A policeman takes down information from two people caught in a hotel room during the citywide crackdown on prostitution in Dongguan, Guangdong province, on Feb 9, 2014. [Photo/Xinhua]
One of China's leading newspapers on Tuesday blasted the local government in Dongguan, Guangdong province, as "unbelievably tolerant" to the sex trade in the aftermath of a high-profile crackdown on prostitution in the city.
Related readings:


 A Dongguan-based company steps up investment to create more jobs in Ethiopia



 Dongguan uses technology to move upstream



 More than 85 percent of new cases of HIV and AIDS in Guangdong province resulted from unprotected sex.



 Guangdong rejected a lawsuit filed by airport bomber Ji Zhongxing.

The comment piece in The People's Daily, headlined "Say no to the abnormal growth of city," said Dongguan is still known as China's "Capital of Sex" despite waves of investigations and arrests in recent years. The piece alleged that prostitutes in the city remain unscrupulous and police still don't respond to calls.
In conclusion, the People Daily comment piece called on local governmental officials to reflect the country's growth model and respect its law and social morals.
Anti-prostitution campaigns, such as occurred this week involving more than 6,700 police officers, have swept through Dongguan at least three times over the past decade, said Dr. Ding Yu, a lecturer with the sociology department at Sun Yat-sen University. Ding has been studying the development of China's sex industry and the lives of those it employs.
Ding also questions whether the entrenched sex businesses in the city can ever truly be stamped out thanks to a local "protective umbrella."
"It is sometimes hard to decide whether pornographic activities are violating the law, so the police always have a major say in sex trade crackdowns," Ding said, but stopped short of saying Dongguan police have been protecting sex businesses.
Footage shot by CCTV reporters with a hidden camera showed a hotel managers who did not seem in the least bit worried about being caught on camera offering sex services. They told the reporter that no police officer would come because , as one manager put it, "we would have been out of business a long time ago."
Although no evidence has been provided, it is widely speculated by the public that local police offer the protection needed for Dongguan's rampant prostitution industry to thrive. This dynamic could stimulate local consumption and create job opportunities, Xinhua said.
Media reports put the number of people working in the sex industry in Dongguan at 300,000 at least, although Xinhua has been unable to verify that number.
The public security department of Guangdong province, home to Dongguan, has promised a sweeping crackdown on pornography and gambling sites across the province.
Local police who provide protection to the sex industry will be severely punished, according to the Guangdong provincial government.