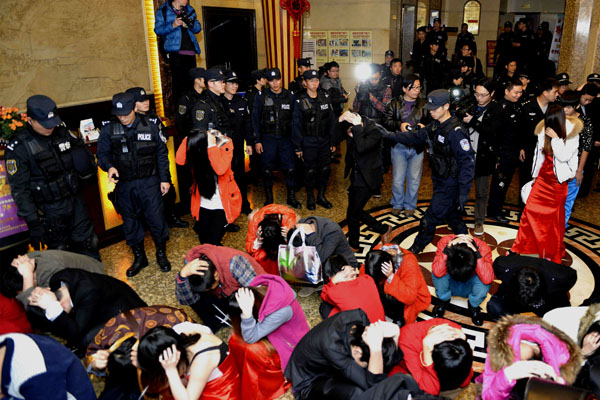 Suspects kneel down and lower their head when police launed a citywide crackdown on prostitution in Dongguan, Guangdong province, on Feb 9, 2014. [Photo by Liang Guanhua/Asianewsphoto]
More than 80 percent of netizens polled in a survey conducted by Sina, one of China's largest online giants, said they do not think a crackdown in Dongguan, Guangdong province, can root out prostitution.
In the crackdown on Sunday evening, 67 people involved in the illegal sex trade were arrested and 12 entertainment venues offering such illegal services were shut down, local police said.
Related readings:

 A Dongguan-based company steps up investment to create more jobs in Ethiopia



 Dongguan uses technology to move upstream



 More than 85 percent of new cases of HIV and AIDS in Guangdong province resulted from unprotected sex.



 Guangdong rejected a lawsuit filed by airport bomber Ji Zhongxing.

However, the citywide crackdown has led to controversy after two young lovers were mistakenly detained as a sex worker and client.
The mistake stirred up intense debate online and the information has been forwarded more than 1,000 times since it was posted on Sina micro blog service on Monday morning.
Meanwhile, nearly 90,000 micro-bloggers have tweeted on the topic of "Dongguan hold on!" on the online platform, with most of those who posted comments asking the police to "treat sex workers better".
In the survey, which had attracted 21,652 people to vote by 4:30 pm on Monday and is still open, 86.8 percent of respondents do not think the crackdown will be useful to solve the prostitution problem, while almost 38 percent said they would not worry if their spouse had a business trip to Dongguan.
In addition, more than 12,500 participants think the topic of "Dongguan hold on!" online reflects that netizens consider prostitution humanely, the survey said.
As per China's Law on Penalties for Administration of Public Security, prostitutes and customers are subject to detention and fines, while organizers will face a criminal penalty.