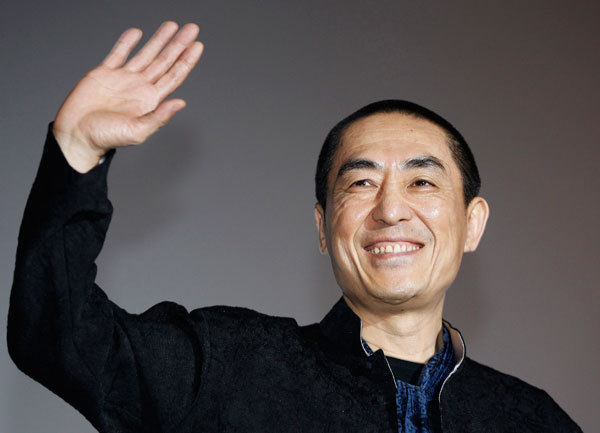 Chinese director Zhang Yimou waves as he poses for the media during a news conference for his opening film "Under the Hawthorn Tree" at the 15th Pusan International Film Festival in Busan, about 420 km (261 miles) southeast of Seoul, in this October 7, 2010 file photo. [Photo/Agencies]
SHANGHAI - Authorities will question the agent of acclaimed film director Zhang Yimou after the director went missing following allegations he had fathered seven children, a breach of China's family planning policy, Xinhua news agency reported.
The agent for Zhang, the director of epics "Hero" and "House of Flying Daggers", was summoned to the eastern Chinese city of Wuxi to answer allegations against him, Xinhua said late on Friday, citing the local family planning bureau.
In May, online reports surfaced that Zhang, who dazzled the world in 2008 with his Beijing Olympic opening ceremony, had at least seven children and could be liable for a 160 million yuan ($26 million) fine, Xinhua said.
Authorities said this month they were unable to locate Zhang and had dispatched teams to track down the director and his wife Chen Ting.
The Wuxi family planning commission "has done everything possible to contact Zhang Yimou and Chen Ting and dispatched a work team that rushed to Beijing to look for Zhang Yimou, but there were no results, they could not find (him)", Xinhua said.
The government said recently that it would allow couples to have a second child if one of the parents was an only child. It was the most significant relaxation of its population control regime in nearly three decades.