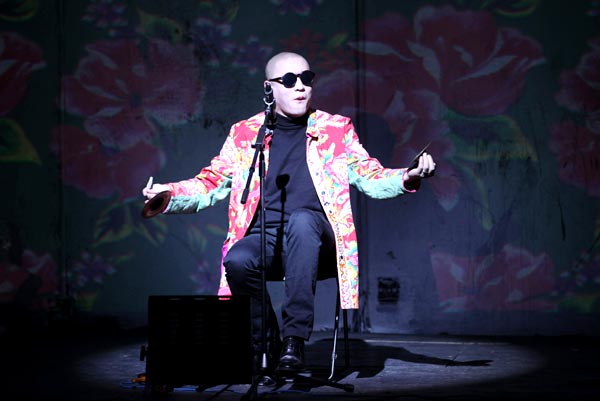 Liang Long, lead singer and songwriter of indie rock band Second Hand Roses, sings at a recent performance. [Photo by Zou Hong / China Daily]
Illuminated by a single spotlight, Liang Long walks onto the stage and sits on a small wooden chair.
The lead singer and songwriter of indie rock band Second Hand Roses doesn't need to say much to attract attention. His trademark flowery jacket, bright red lipstick and round vintage sunglasses naturally conjure up waves of screams from the audiences. Holding a pair of cymbals, he shakes them slightly, while asking the crowd, "Shall we start?"
The curtain rises. On stage are band members Yao Lan on guitar, Li Ziqiang on bass, Wu Zekun on Chinese traditional instruments, mainly the suona, and Sun Quan on drums. Wearing black suits and sunglasses, they look like bodyguards standing behind Liang.
The next 40 minutes see the band performing songs from their latest album, Stealing the Show, which continues their bold combination of traditional Chinese instruments with hard rock beats. The ironic humor in the lyrics, which the band is known for, adds fire to the show.
They also announce their upcoming concert, which will be the band's largest show ever. It will be held on Dec 7 at the Workers' Gymnasium in Beijing.
"We only have 16 days to sell tickets since we just received permission to hold the concert," says Liang. "But we are not worried about the empty seats because Second Hand Roses is different."
Liang, 36, has reason to be confident now that the band has a large fan base in China.
Stealing the Show, their first album in eight years, is also their debut collaboration with Modernsky Records, one of the largest indie music labels in China. One of the band's biggest fans, renowned artist Zhang Xiaogang, painted the cover for the album, which has the five members appearing in the shape of their Chinese zodiac signs.