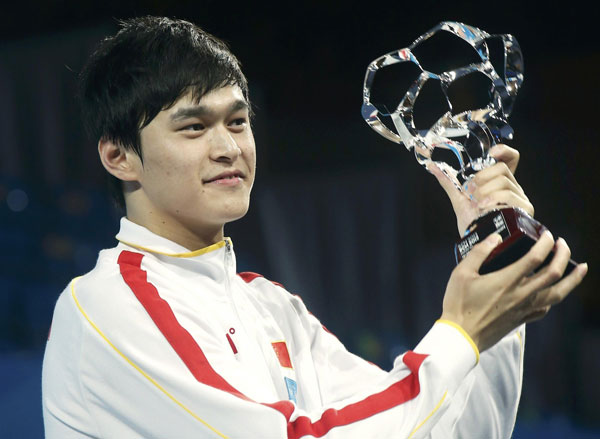 China's Sun Yang poses with his FINA trophy for best male swimmer at the World Swimming Championships at the Sant Jordi arena in Barcelona, August 4, 2013. [Photo/Agencies]
BEIJING - China's Olympic champion Sun Yang, who has been suspended indefinitely following a recent detention for driving without a licence, could return to national team training "soon", said a top swimming official.
"We need to watch Sun Yang for a period of time. If he behaves well, it may not take a long time to allow him back to training at the national team," Shang Xiutang, deputy head of the Chinese Swimming Administrative Center (CSAC), told reporters here on Friday.
But Shang refused to give a timetable on Sun's return. "If the suspension period is too short, he won't draw lessons from it; but if it takes too long, it won't be good for his sporting career," he said.
Sun Yang, the first Chinese man to win an Olympic swimming gold with his victories in the 400 and 1,500-meter freestyle at the London Games, was suspended from training and competing indefinitely earlier this month after he was given seven days of administrative detention as punishment for driving without a license.
As a result of his failure as a role model, Sun was excluded from the shortlist for China's annual Top Athlete Award despite his stellar performance in the world championships in Barcelona.
The 21-year-old Sun was named the top male athlete in 2011 and 2012.
Meanwhile, nearly 200 swimmers including Olympic champion Ye Shiwen assembled in Beijing for a pep rally in the build-up to next year's Asian Games and the 2016 Rio Olympic Games.
"My biggest regret of the year was the Barcelona World Championships," said Ye, who failed to win a medal at the worlds. "But I learned a lot from all the frustrations. I hope I can do my best at the Asian Games next year."