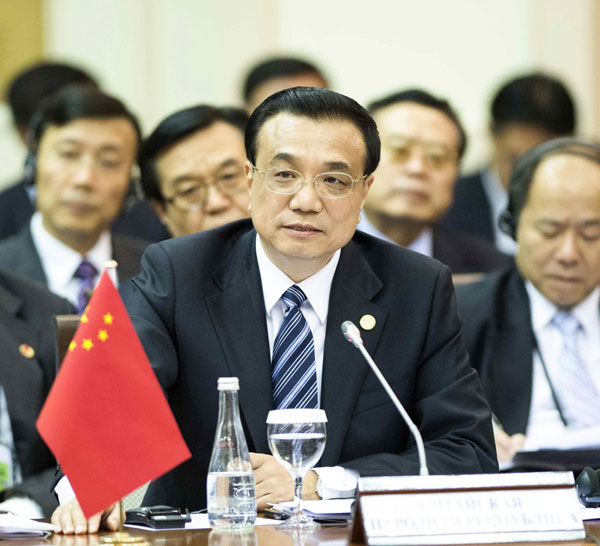 Chinese Premier Li Keqiang delivers a speech during a prime ministers' meeting of the Shanghai Cooperation Organization member states in the Uzbek capital of Tashkent, Nov 29, 2013. [Photo/Xinhua]
TASHKENT - Chinese Premier Li Keqiang said in Beijing Friday that his trip to Romania and Uzbekistan, where he attended two multi-lateral meetings, achieved fruitful results.
The Chinese premier attended a leaders' meeting of China and Central and Eastern European (CEE) countries in the Romanian capital of Bucharest, paid a state visit to the country, and attended a prime ministers' meeting of the Shanghai Cooperation Organization (SCO) member states in the Uzbek capital of Tashkent.
China enjoys traditional friendship with CEE countries, Li said when meeting with reporters, adding that the leaders' meeting increased political mutual trust between China and these countries.
China and CEE countries are at similar stage of development and have similar national income, Li noted. However, trade between the two sides is only equivalent to one-tenth of China-EU trade.
CEE countries are keen to develop relations with China and enhance infrastructure construction, Li said, adding China boasts relatively mature technology in that field, and is able to provide relatively advanced equipment at a lower price.
The Chineses premier said the trip was also an endeavor to showcase Chinese equipment to CEE countries which have a need for these products and is willing to use China's equipment in areas such as high-speed railways, as well as nuclear, thermal and wind power.
The trade is mutually beneficial and has win-win results, which helps China reduce excess capacity, optimize economic structure, and is conducive to the balanced development of Europe, he said.
On the SCO prime ministers' meeting, Li said strengthening cooperation with SCO countries is part of China's strategy to open up its western regions, which will help adjust its regional development imbalances.
In addition, keeping a harmonious relationship with western neighbors would enable China to have a stable neighboring environment, while their practical cooperation could create broader room to develop China's central and western regions as they open up westward, said Li.
China's reform and opening-up began 35 years ago in the southeast coastal areas, said Li, "and now its westward opening initiative has strategic importance for the China's comprehensive, coordinated and sustainable development."
"We're working for our national interest and win-win cooperation with other countries," said the Chinese premier. "But we're also making efforts to ensure a better life of the Chinese people and a peaceful and tranquil environment of the whole world."