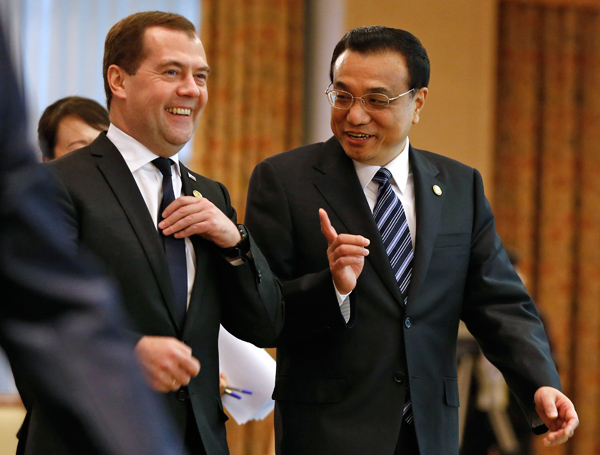 Premier Li Keqiang talks with his Russian counterpart Dmitry Medvedev before the 12th prime ministers' meeting of the Shanghai Cooperation Organization in the Uzbek capital of Tashkent. [Photo/Agencies]
China's reform and opening-up will provide more opportunities for Sino-Russian cooperation, Premier Li Keqiang said on Friday, calling for a deepening partnerships in such sectors as energy, transportation, electricity and infrastructure construction.
Li made the remarks during talks with his Russian counterpart Dmitry Medvedev on the sidelines of the 12th prime minister's meeting of the Shanghai Cooperation Organization in Tashkent, Uzbekistan.
The SCO meeting was Li's first with the group, which, along with China, includes Kazakhstan, Kyrgyzstan, Russia, Tajikistan and Uzbekistan. It also was the first multilateral occasion of Chinese participation after the reform-setting Third Plenum of the 18th Central Committee of the Communist Party of China that ended on Nov 12.
Li said China's reform and opening-up policies mapped out by the key Party meeting will help sustain the nation's economic growth and raise Sino-Russian relations to a higher level.
He also called for close coordination from both sides to promote the SCO, adding that the group's members should deepen cooperation in investment, finance, energy and ecological protection, as well as strengthen cultural exchanges.
Medvedev said Russia also will seek to strengthen ties with China in energy, trade, transportation and logistics, as well as cooperation between Russia's Far East region and China's neighboring northeastern region.
The talks between the pair came about one month after they co-chaired the 18th regular meeting between the two countries' heads of government in Beijing, which saw 21 deals signed.
During the visit to China last month, Medvedev announced that Russia will supply an additional 10 million metric tons of crude oil to China per year over the next decade. China's oil imports stood at 276 million metric tons last year, with Russia being the fourth-largest provider.
Feng Yujun, director of the Institute of Russian Studies at the China Institutes of Contemporary International Relations, said that since Russia has shifted its export focus from Europe to Asia, energy cooperation between the two countries is making more progress, such as in natural gas and North Pole energy development.
But the growing ties between China and Russia are about more than just energy, he said, citing the development of the $2 billion Russia-China Investment Fund and soaring Chinese investment to Russia as examples.
China is now Russia's largest trading partner, with bilateral trade volume reaching $88 billion in 2012.
In the first seven months of this year, direct foreign investment by Chinese companies in Russia rose by $250 million, statistics show.
The two countries also could tap aircraft manufacturing, nuclear energy and nanometer technologies, but after Russia's participation in the WTO last year, both sides need to further optimize related laws and regulations in time to secure growing investment, Feng added.
Li also met all the prime ministers of the SCO Central Asian members.
China and Uzbekistan on Friday signed agreements covering financial cooperation, cultural exchanges, tourism and customs information after Li met Uzbek Prime Minister Shavkat Mirziyoev.
China Development Bank signed an agreement to lend $10 million to the Central Asian country. A memorandum of understanding for $40 million also was signed.
Observers said the "explosive and expanding" cooperation between China and Central Asia will help upgrade the region's economy but also will require Central Asia to further open up and facilitate exchanges of personnel, finance and technologies.
Zhao Huirong, a researcher of Central Asian studies with the Chinese Academy of Social Sciences, said cooperation with China can help Central Asia to upgrade its outdated infrastructure and boost non-energy sectors, including manufacturing, transportation and telecommunication.
China values its ties with Central Asia and is willing to help — this is evident from China's strategic partnerships with all five nations in the region, said Zhao.
During President Xi Jinping's visit to Central Asia in September, China announced $30 billion worth of deals with Kazakhstan and $15 billion in deals with Uzbekistan. Trade volumes with Central Asia topped $46 billion last year, up 100-fold since the countries' independence two decades ago.
Discussing concerns about Central Asia's investment environment and China's increasing economic presence in the region, Zhao said anxiety is unnecessary and that what is important is to keep positive momentum flowing and to make a bigger effort to enhance mutual understanding between the two peoples.
Contact the writers at zhaoshengnan@chinadaily.com.cn