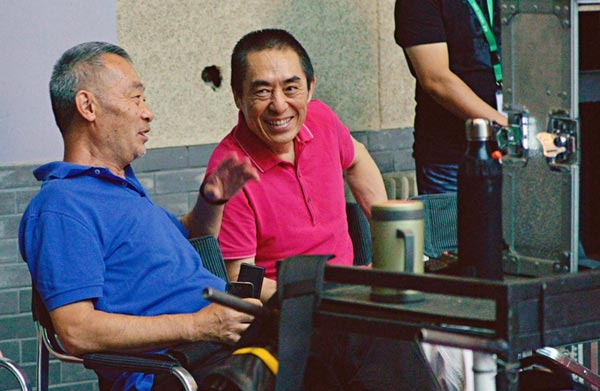 Chinese director Zhang Yimou (R) speaks with filmmaker Tian Zhuangzhuang on the set of filming a new historical movie on the life of Yang Yuhuan, one of the Four Beauties of ancient China. Photo provided to China Daily
BEIJING - Authorities have been unable to locate Zhang Yimou, one of China's best-known movie directors, to investigate allegations that he has breached China's one-child policy.
In May, online reports surfaced that Zhang, who dazzled the world in 2008 with his Beijing Olympic ceremonies, had at least seven children and could be liable for a 160 million yuan ($26.3 million) fine.
State media said then that the family planning agency in the southerly city of Wuxi - where Zhang's wife, Chen Ting, is from - was investigating the case.
Xinhua said the Wuxi Municipal Population and Family Planning Commission "has done everything possible to contact Zhang Yimou and Chen Ting and dispatched a work team that rushed to Beijing to look for Zhang Yimou, but there were no results, they could not find (him)".
Local family planning officials said they had sent a dozen letters to the Beijing Film Group and the Guangxi Film Group to contact Zhang, according to Xinhua.
"In fact, at this point, we have not received a satisfactory reply," said an unnamed representative from the Wuxi commission, according to Xinhua.
"No matter who is involved, illegal births will have to be dealt with in accordance with the law."
The government said last week that it would allow couples to have a second child if one of the parents was an only child.