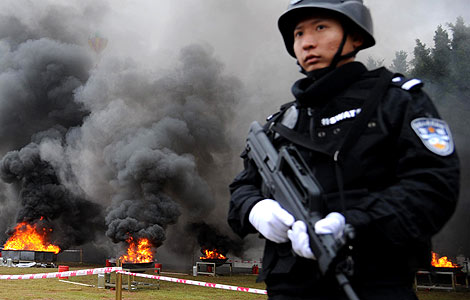 An armed police officer stands guard as drugs are destroyed in Nanning, Guangxi Zhuang autonomous region, Dec 28, 2013. [Photo/Asianewsphoto]
BEIJING - Police cracked some 120,000 drug-related crimes and arrested 130,000 related suspects last year, according to the Ministry of Public Security (MPS).
A total of 7.3 tonnes of heroin, 16.2 tonnes of methamphetamine, 4.7 tonnes of ketamine and more than 5,800 tonnes of chemical agents used to make drugs were confiscated, according to a MPS meeting held Thursday.
Describing the current drug-fighting situation as "complicated and austere," the ministry ordered a 100-day nationwide police campaign to crack down on the manufacture and sale of drugs, as well as other drug-related crimes that "severely harm young people's health and create other public security threats."
According to the meeting, the campaign will focus on drug-related activity in popular entertainment venues located near communities.
The ministry vowed to improve regional law enforcement coordination in the fight against drugs, aiming to bust the ringleaders of major transnational drug gangs, as well as those who smuggle drug-making chemical agents or illegally grow and purchase plants that can be used to produce drugs.
In a high-profile case, Myanmar drug lord Naw Kham and his armed drug trafficking gang were busted last year in a joint operation conducted by police from China, Laos, Myanmar and Thailand following the brutal murder of 13 Chinese sailors.
The gang is believed to have engaged in drug trafficking, kidnapping, murder, looting and other crimes along the Mekong River for many years.
Naw Kham was sentenced to death late last year.