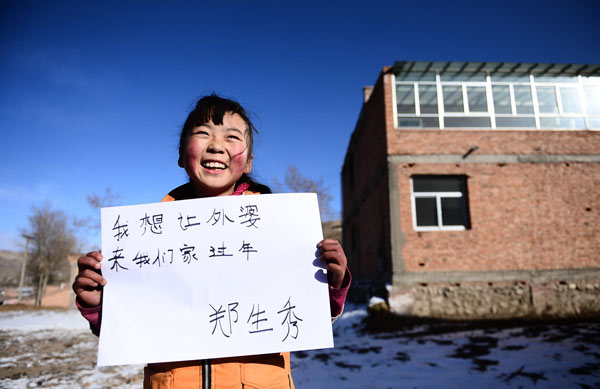 Zheng Shengxiu, 12, shows her wish for the Spring Festival (Chinese Lunar New Year), at a village in Datong Hui and Tu autonomous county, Qinghai province, Dec 31, 2012. Zheng is one of left-behind children in the village as her parents work in another place and only go back home during the Spring Festival. Zheng wrote that she wants to spend the festival with her grandmother. [Photo by Zhang Hongxiang/Xinhua]
Children of migrant workers who have been left at home in rural areas need more respect and encouragement, said a village school teacher at a charity summit in Shenzhen on Wednesday.
Yang Yuansong, who has worked as a teacher for 12 years at the Maocaoping Primary School, a school in a poor village in Guizhou province, said people who try to help the "left-behind" children must respect and encourage them, not just show them pity, because such acts can hurt their pride and feelings.
He said the children should not be branded as "left-behind". He suggested the help provided to them be given in the form of rewards, suggesting a child given a coat can be told they received the garment because of good grades or hard work.
He also said more attention needs be paid to the safety and heavy workload these children endure, because most of them only have their illiterate grandparents looking after them, and some even have to take care of themselves and their younger siblings.
Yang was chosen as a candidate for the "most beautiful village school teachers" competition held by the China Central Television and the Guangming Daily. He has published a book named The Diary of China's Left-behind Children, which describes his teaching life with 26 "left-behind" children as well as their diaries and drawings.
There are more than 58 million "left-behind" children in China.