Newly recruited civil servants in East China have been made to work as sanitation workers for five days to get a feel for the hardship faced by laborers.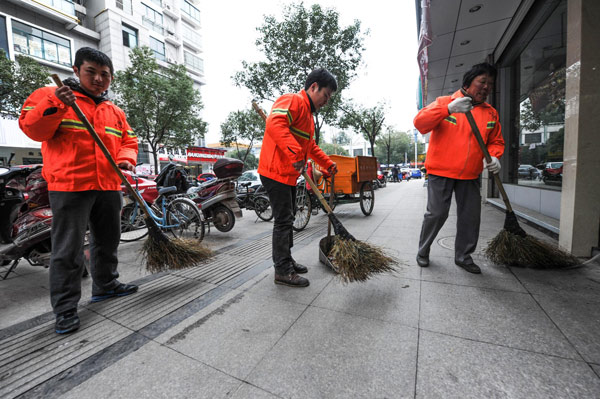 Two newly-recruited civil servants, Wu Kangjian (middle) and Liu Yu work together with a cleaner, Dong Yilong, to clean a street in Wuyi county in East China's Zhejiang province, Jan 8, 2013. [Photo/Xinhua]
Since December, more than 40 young people employed by the public offices of Wuyi county, in Jinhua, Zhejiang province, have been sent to the front line of public services to work and live with street cleaners as part of their training.
Xu, a public servant, said each of the new recruits was placed with a veteran cleaner to show them how to do the job. The group had to start work at 3 am and work two shifts every day. There was even an evaluation system and those performing poorly had their names published and were criticized.
The Party committee of Wuyi said the move is designed to have the new public service staff members, all born in the 1980s, gain some idea about the adversity faced by the grassroots laborers and better serve the people.
The new recruits will also complete 15-days of military training and spend a short time working on key frontline projects.
The training method, which is unusual in China, has drawn mixed responses from netizens. Many said they support the policy, which they believe can help those working at government agencies understand the hard work done by people on the frontline.
Others said forcing people to work as low-pay laborers for less than a week is superficial, and called for such training to become a regular part of the civil service and be carried out every year by public servants.