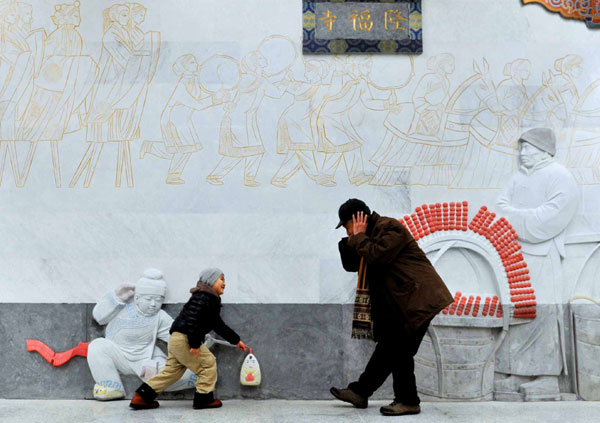 A man plays with his grandson at Dongsi Station on Line 6 on Sunday. Li Wen / Xinhua
If you ever regarded Beijing's subway system as just a humdrum expressway with all its stations largely identical except for their nameplates, think again.
The subway's new Line 6, which started operating on Dec 30, will provide passengers with a brand new experience as well greatly easing the ever-growing traffic on the system as a whole.
Commuters are being promised they will instantly appreciate the look of the new line's stops.
"In each station we have tried to reproduce the images and impressions from 30 meters above them," said Zhang Yang, design director of Shenzhen Guangtian Decoration Group Co Ltd, explaining that the cultural characteristics of the parts of the city the line passes under have influenced how each station has been designed.
"Most of the artistic designs refer to the landscape right above a particular station, so commuters will be able to figure exactly where they are."
Line 6 passes through various parts of the city, presenting very different styles, from prosperous metropolitan areas to historic sites, to the central business district.
"Most of the stations at the eastern end of Line 6 are decorated in azulejo - a form of Portuguese painted, tin-glazed, ceramic tilework - and other colored bricks that form into designs showing blue waves, flowers and pink petals, creating a vibrant, youthful flair," said Zhang.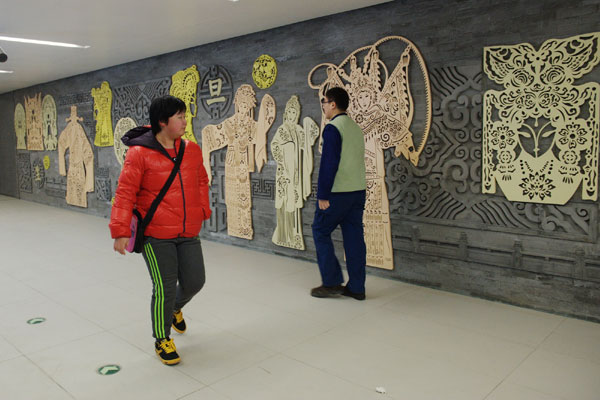 People walk past Peking Opera style decoration at Chegongzhuang Station on Line 6 on Sunday. Wei Xiaohao / for China Daily
As the line travels west toward the inner city, and its historic districts and cultural sites, different building materials take over, including antique flower windows, decorated archways and double-eave roofs.
"You are reminded of an older city, of hutong and quadrangle courtyards, traditional gray brick and other older styles," said Zhang.
Commuters are then shifted from historical surroundings to more modern communities, dominated with red brick designs.
"As the decoration changes, passengers are well aware the train is moving into a different part of the city above," added Zhang, emphasizing that each station has its own personality, almost.
Nanluoguxiang Station, for instance, features herringbone slope crests and maroon wingceltis bars, reminding travelers of hutong and their narrow lanes and courtyards.
At Beihai North Station, a band of artificial glazed-tile twists and turns sketch the contours of double-hipped roofs and imperial gardens.
But it's not just the decoration which presented the new line's planners with significant challenges - its building too was often restricted by complicated environmental and geological conditions, the discovery of cultural relics, water pipes and electricity cables.
Dongsi Station, at 34 meters deep, for example, had to have 235 wells dug around it to prevent water seepage, said Zhuo Linjian, a technical supervisor on the project.
"The construction team overcame numerous difficulties," he said.
"With complex electric wiring, cables, and other circuits in the ground above, and complicated underground geological conditions, the new line was a real challenge."
Because of the sometimes complicated geological conditions, most of the platforms are of irregular, but surprising shapes.
"We had to take into consideration existing stations underground, while making room for the new ones," he added.
However, designers insist the strange shapes of the stations also add charm.
"Chaoyangmen Station, for instance, is designed into an arch, to avoid the circuits buried above it," added Zhang.
"But eventually it represented perfect design, with refined, soft, mild lines, which represent its name perfectly, as it translates to 'the rising sun'."
In addition, this is also the first time that Beijing has designed wedge-shaped stations on its subway system, which planners hope will also help with the problem of intense passenger flows.
zhengxin@chinadaily.com.cn